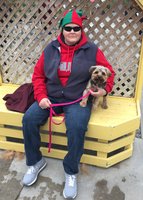 Kelly Beth Lewis
Our hearts are heavy to announce the passing of Kelly Lewis, wife to Louise McCaie, which occurred on Monday, April 8, 2019 at the Saint John Regional Hospital. Born on November 19, 1963, she was a daughter of the late John "Jack" F. Lewis and Joan C. (Jones) Davis and beloved sister of the late Sondra Lewis, Peter Lewis, Michael (Michelle) Lewis, Scott (Tammy) Lewis and Troy Lewis, aunt to Jillian and Jared Comeau, Taylor and Paige Lewis, Amanda and Andrew Lewis, Keelan, Allie and Sophie Lewis and the late Grace Lewis.
Kelly was employed with Centracare from 1982 until her injury prevented her from working in February of 1993. She enjoyed being active and played many sports such as softball, hockey, soccer, football and golf. Kelly loved working in her garden and playing with her dog, Izzy. Above all, she valued the 22 years she spent with her wife, Louise and spending time with her family and friends.
Kelly and her family would like to share their many "Thanks" to her nurses who improved her quality of life. A special "Thanks" to Kendra who was Kelly's nurse for the past 22 years.
Arrangements have been entrusted to Brenan's Funeral Home, 111 Paradise Row, Saint John (634-7424) where a Memorial Service will be held on Thursday, April 11 at 12:00 Noon from the Brenan's Chapel. For those who wish, remembrances may be made to the Juvenile Diabetes Research Foundation or the New Brunswick Heart and Stroke Foundation and online condolences can be placed at www.brenansfh.com