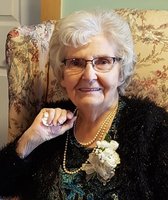 Kathleen Ine Ingersoll
Ingersoll, Kathleen Ine -
Early in the morning of April 25, 2019, at the Saint John Regional Hospital, Kathleen (Kay) I. Ingersoll ended her earthly journey at the age of 90.
Kay had a very unique upbringing as the only child of lighthouse keepers, Don and Bernice Wilson. Stationed on a remote, one acre outcropping of ledge, 9 miles from Grand Manan Island, Gannet Rock Light was an isolated place to grow up. This fact necessitated Kay leaving home during the school year from grade one on White Head Island through graduation from Saint John High School. After graduating in 1945 from the Provincial Normal School in Fredericton, Kay taught all 8 grades in a one-room schoolhouse in Maces Bay, NB. She also taught High School at Bethany Bible College in Yarmouth, NS, after meeting and marrying her husband of 42 years, Rev. H. Ralph Ingersoll.
Together, they pastored churches in Beals, Maine, Barkers Point, NB, and Woodstock, NB, and, during the years when her husband worked with the New Brunswick Temperance Federation and the Canadian Bible Society, Kay worked for Dr. Walter Hayes and raised her three children in the north end of Saint John, NB. At this time, Kay and her family were active participants at First Wesleyan Church in Saint John, NB. Ralph and Kay went on to serve The Wesleyan Church in the role of District Superintendent for 28 years. During this tenure they championed many significant projects, including: the merger of the Reformed Baptist Alliance with The Wesleyan Church, the transition of Bethany Bible College (now Kingswood University) from Yarmouth, NS, to Sussex, NB, the enlargement of the Beulah Tabernacle as well as many significant upgrades to Beulah Camp, Browns Flat, NB, and the purchase of Caton's Island to expand the youth ministry of the Atlantic District of The Wesleyan Church. Kay began and chaired the Atlantic District Women's Convention for many years (which grew to an attendance of 900 ladies); and, she also owned and operated the Treasure House bookstore in Sussex, NB. She became an accomplished artist in her own right after studying with renowned Maritime artist, Rev. Randolph Nicholson.
Following the death of her husband, she moved from their home in Pennfield, NB, to Kings Valley Manor and was for many years an active volunteer and supporter of Kings Church, Quispamsis. During this time she took a trip to the British Isles and a trip to Europe and Oberammergau. She also spent several winters in Florida or Myrtle Beach with friends… times she remembered often and with fondness. Declining health required her to move to Moncton where she lived with her daughter and son–in-law, before taking up residence in assisted living at Hawkins House, Fredericton, NB. Last summer her circumstances required a move back to Saint John where her room overlooked her beloved Bay of Fundy during her 8 month stay at Sea Street Manor.
Kay will be greatly missed by her three children, Joanne LeRoy (David) of Browns Flat, NB, her son, Don (Janet), of Browns Flat, and her son, Doug (Karen) of Fredericton, NB; her seven grandchildren, Jon, Andrew, and Jamie LeRoy, Brad Ingersoll, Brent and Jeff Ingersoll, and Shea Guptill; 14 great-grandchildren; her only niece, Marti Trafton and distant cousins. She was predeceased by her parents, her husband Ralph, her granddaughter Lindsay Ingersoll, and her son-in-law Rev. David LeRoy.
The family wishes to express their sincere thanks to her many caregivers, the compassionate medical personnel and her amazing cardiologist, Dr. David Bewick.
Visitors will be received at Kings Church in Quispamsis, NB, from 4pm to 7pm on Sunday, April 28th and the Celebration of Her Life will be 2:00pm, Monday, April 29th, at Kings Church, Quispamsis, NB. Memorials may be made to Kingswood University, Sussex, NB or Beulah Camp/Catons Island. Arrangements are under the care and direction of Brenan's Funeral Home, 111 Paradise Row, Saint John (634-7424)
.