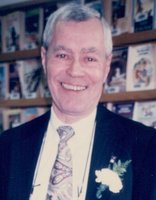 Robert Ceton Matthews
The death of Robert (Bob) Ceton Matthews occurred June 23rd of 2019 at the St. John & St. Stephen Nursing Home surrounded by his sister and niece. Born in Saint John, he was the son of Hillman Ceton Matthews and Lillian Campbell Matthews.
He is survived by his sister Vivian (Matthews) MacDonald and his niece Leslie MacDonald and a grand-niece Gillian King and grand-nephew James King and several cousins. He attended Saint John High School and then went on to the Maritime College of Pharmacy in Halifax and graduated in 1953. He began his career working at Wasson's Pharmacy and then became co-owner of McLean Matthews Drugstore. Bob decided to change careers and obtained a BA and BEd in 1969 and 1972, and a Masters degree from UNB Fredericton in 1982. He taught science and math at Lorne Junior High School his whole teaching career, and had a wonderful impact on the school and science program, and retired in 1994. He won the Prime Minister's award for teaching excellence in science, technology, and mathematics in 1995.

He was a member of the Saint John Retired Teachers Association and St. Andrews Society and served on the board of the St. John & St. Stephen Nursing Home for many years. Bob was a lifelong Presbyterian and a member of Grace Presbyterian Church.

Resting at Brenan's Funeral Home, 111 Paradise Row, Saint John, NB with visiting on Wednesday June 26, 2019 from 2-4 and 6-8 pm. A Funeral Service will be held on Thursday, June 27, 2019 at 11:00 am from Grace Presbyterian Church, 101 Coburg Street, Saint John. Interment will take place at Fernhill Cemetery. The family wishes to thank the staff of St. John & St. Stephen Nursing Home. In lieu of flowers, donations may be made to Alzheimer Society of Canada, Saint John Food Bank, or Grace Presbyterian Church. Online condolences may be made at www.BrenansFH.com