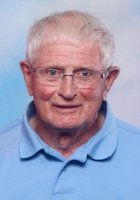 Allison "Al" "Pickles" MacNichol
With heavy hearts, we announce the passing of Allison MacNichol, husband of 53 years to Janet (Allaby), on Monday, September 16, 2019 at the Saint John Regional Hospital. Born December 30, 1938, he was the son of the late Donald "Tommy" and Roberta (McLaughlin) MacNichol.
Al worked at NBTel for 32 years, retiring in 1996. He was heavily involved in hockey and track and field, breaking records in the 50s for the 220 yard dash, and also trying out for the Olympics. Pickles was invited to the Montreal Junior Hockey tryouts, but was mostly known for playing in Saint John in the 60s with the Saint John Mooseheads, and later with the Moosehead Old Timers. Following retirement, he enjoyed spending his time golfing at Hampton, and then at Rockwood. Al was proud of his work with the Kennebecasis Lions Club, and was also a member of the Royal Canadian Legion Branch #58 and the Telephone Pioneers.
In addition to his loving wife, Janet, Al is survived by his daughter, Amy MacNichol (Reg Legere); son, Keith MacNichol; granddaughter, Hannah Legere; sister, Elaine MacNichol; and many nieces and nephews.
Besides his parents, he was predeceased by his infant son, Ross David MacNichol; and sisters, Barbara Myles and Norma Gillis.
Arrangements are under the care of Brenan's Funeral Home, 111 Paradise Row, Saint John (634-7424). A Celebration of Life will be held at a later date. Please place online condolences at www.BrenansFH.com.