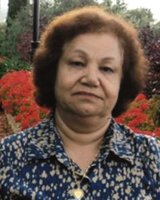 Basirat Sadeghi
The death of Basirat Sadeghi, beloved wife of Manoochehr Ghodsian, occurred on Friday, November 1, 2019 at the Saint John Regional Hospital. Born on May 12, 1949 in Chenar-Abadeh, Iran, she is the daughter of Meymanat Rajamand and the late Anayatolloh Sadeghi.
Basirat was a hard worker and devoted her life to caring for the needs of those she loved. She was a woman of great spirituality and will always be remembered for her kind, gentle and selfless ways.
In addition to her mother and husband, Basirat is survived by her children, Navid Ghodsian and Mahshid Martin (Jason); precious granddaughter, Hope; four siblings; brother-in-law, Saeed Ghodsian; sister-in-law, Iran Ghodsian; many other brothers and sisters-in-law; along with several nieces and nephews. Besides her father, she was predeceased by her brother, Soroush Sadeghi.
The funeral service will take place from Brenan's Funeral Home Chapel, 111 Paradise Row, Saint John (634-7424) on Tuesday, November 5, 2019 at 2:00 PM. Interment will take place in Greenwood Cemetery.
For those who wish, remembrances may be made to the Canadian Cancer Society.
www.BrenansFH.com