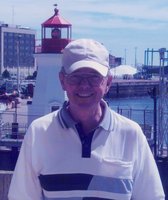 Karl Mark O'Rourke
It is with great sadness that we announce the sudden passing of Karl Mark O'Rourke which occurred on November 4, 2019 at his residence. Born in Quebec City on October 3, 1939, he was a son of the late Rena Ferguson and Leonard Vienneau.
Karl was a social butterfly, he cared for everyone he met and he loved to bowl, play pool, read and dance. In his younger years he was in the Air Force and employed with the Canadian National Railway in Saint John. After retirement, he worked for the CNR in Montreal. Karl loved the Lord with all his heart and soul; he assisted during Sunday morning masses as a collector and funeral altar server.
Karl is survived by his loving wife, Pauline; son, Patrick (Theresa); brothers, Terry, James and Gordon; sisters, Ruth, Elaine (Pat), Linda (Leo), Simmonne, Janet, Veronica and Dorothy (Wayne); brother-in-law, Danny; sister-in-laws Olive (Ron) and Alice (David); as well as several nieces and nephews.
In addition to his parents, Karl was predeceased by his sister, Edna May; sister-in-laws, Verna, Helen, Roberta, Gloria, Janice and also brother in-laws, John and Charles.
Resting at Brenan's Funeral Home, 111 Paradise Row, Saint John (634-7424) where visitation will take place on Thursday, November 7, 2019 from 2-4 PM and 6-8 PM. A Mass Of Christian Burial will be held from the Cathedral of Immaculate Conception on Friday, November 8, 2019 at 12:10 PM with an interment to follow in St. Joseph's Cemetery. In lieu of flowers, donations in Karl's memory can be made to the St. Joseph's Hospital Foundation and the Boys and Girls Club. Online condolences may be placed at www.BrenansFH.com.