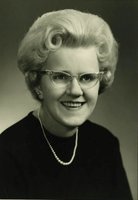 Shirley Lorraine Brown
The death of Shirley Lorraine (Vail) Brown, loving wife of 52 years to William Cuthbert (Bill) Brown, occurred peacefully on Saturday, November 16, 2019 at the home of her beloved daughter Andrea Jane Brown, surrounded by her family. She was 84.

Born at home on Easter Sunday, April 21, 1935, Shirley was the daughter of the late Robert Emmerson Vail and N. Florence (Leck) Vail.

She was a graduate of the New Brunswick Teachers' College in Fredericton, and for several summers also attended UNB Fredericton summer school, where she met Bill, her loving husband. They were married on Easter Saturday, 1967.

In her early career, Shirley taught briefly in Hoyt, NB, and then for many years at Rothesay Elementary School, followed by supply teaching in Saint John.

Shirley enjoyed knitting, quilting, embroidery, and needlepoint. Among her favourite recreations were square dancing and walks with Bill, and she was fond of most types of music. She and Bill enjoyed many trips together, and with their daughter, Andrea. Until the last few years Shirley was an active member of the Base Gagetown Community History Association.

For more than 40 years Shirley was a faithful adherent of the Glenview United Church (now Harmony United.) As a young woman she was a member of St. Luke's Anglican Church, where she was a Brownie leader, and a member of the church choir, and of the Anglican Church Women.

In addition to her husband and daughter, Shirley is survived by nephew Paul Brown (Linda), niece Charis Brown-Tobias (Rick), and niece Beth Brown Kirk (Dan), and many cousins, and great and great-great nephews and nieces.

She is predeceased by her parents and grandparents, including her very special grandmother, the late Minnie Jane (Emery) Leck, by her father-in-law and-mother-in-law, Frederick and Charis (Price) Brown, and by her brother-in-law and sister-in-law David and Hope (Walker) Brown.

Thank you to Shirley's niece, Beth Brown Kirk, for all her help and support, and to Home Care By Design, including Allyson, Jocelyn, Olivia, Judy, Diane, Elaine, Christina, Tammy, and Brianna. Special thanks also to Chris, Rebecca, and Cindy. Thank you to Shelley C., Shelley P., and Twila of Extra Mural and a note of deep appreciation to Andrea's work colleagues at the Saint John Regional Hospital for their many acts of kindness.
Resting at Brenan's Funeral Home, 111 Paradise Row, Saint John, NB (634-7424) with visiting on Wednesday, November 20th from 2-8 PM and also 12:30-1:30 PM on Thursday, November 21st at Harmony United Church, 8 Upland Road with the funeral service to follow at 2 PM. In lieu of flowers, donations may be made to Harmony United Church or charity of donor's choice. Online condolences can be placed at www.BrenansFH.com