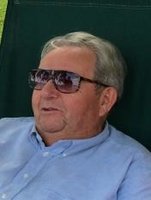 Kenneth John Harvey Blair
It is with sadness, that the family of Kenneth Blair, age 95, announces his passing on Sunday, December 8th, at Bobby's Hospice, Saint John, with family at his side. Ken was born March 25, 1924 in Hastings, Nova Scotia, a son of Clarence and Bessie (Amos) Blair.
As one of six children in rural Wallace Station, Ken endured the Depression and war-time, during his early years. Challenged with a unique vision impairment, Ken's educational opportunities were limited. Working on the family farm, through his teen years, Ken's construction aptitude soon emerged. Surviving a serious vehicle accident at 18, Ken's war effort contribution would come at the Canada Car plant in Amherst, constructing aircraft. Following the war, Ken's entrepreneurial spirit launched an egg business and a portable Maritime sawmill operation. Through the 1950's, Ken shifted gears in the fall, cutting and selling Maritime Christmas trees, in Boston and New York; making 15 trips some seasons.
During a 1947 lapse in "business focus", Ken met the love of his life, in the one-room schoolhouse in Wallace Station. Here, 18 year-old Elizabeth Charman, taught all grades, including several of Ken's sisters and brothers. Married in Wallace United Church July 22, 1952; two years later, the first of five children would arrive.
In 1955, Ken relocated his young family to Saint John, to establish Blair Construction, and their permanent residence. Always unconventional, Ken made this non-stop 27-hour trek, driving his International farm tractor, and pulling a homemade work trailer. Over the next 50 years, Blair Construction would build hundreds of "Ken-designed" dwellings, roads and services, commercial projects, and churches – Ken's passion. Above all, his integrity and mission to treat others like a brother or sister, was his creed. Throughout Ken's life, Elizabeth was at his side - cheering his ambition, balancing his books (and nutrition), and in her "spare time" – devoting her life to their daughter and four sons. For nearly 65 years, their spiritual home was Glen View (Harmony) United, serving as an example of service, in Christ's name.
Over the last 50 years, Ken's "great escape" was through time at the beloved family cottage, on the St. John River. Here, cottages were built, fields groomed, and family and friends would gather, crafting memories for a lifetime. Additionally, Ken loved to travel; with cross-country camping trips, Florida and European getaways, trips to Wallace, or simply anywhere a volunteer or "Coffee Buddy", would drive him.
Ken is survived by sons; Paul (Carol), Halifax, Alan (Betty Jane), Vancouver, John (Sandra), Fall River, Malcolm (Wendy), Hampton; and daughter; Barbara (John) Hill, Quispamsis; cherished grandchildren Jamie, Jordy, Emily (James), David, Matthew (Heidi), Jeffrey, Christopher, Colin, Sarah, Jennifer (Adarsh), Katie (Jordan), Brianna, Jessie, Jessica; and six great-grandchildren. Ken is also survived by brother Walter; sister Ella Patriquin; sisters-in-law Shirley Blair, Ruth Slauenwhite; brother-in-law Austin Carn; also many nieces and nephews.
Besides his parents, Ken was predeceased by his devoted wife of 67 years Jean Elizabeth (Charman) on May 5, 2019; sisters Hilda Blenkhorn, Florence Ogilvie; and brother Willard.
The family is sincerely grateful for the loving care that Dad recently received from the Kingsway Day Program; Bayshore care-givers Lana, Gloria, Jeremy; and especially the caring team at Bobby's Hospice.
Arrangements have been entrusted to Brenan's Funeral Home, 111 Paradise Row, Saint John (506-634-7424). Visitation will be held Sunday, December 15th from 6 – 8 pm at Harmony United Church. A Celebration of Ken's Life will be held Monday, December 16th at 1 pm, at Harmony United, Rev. Steven Longmoore and Rev. Dr. Elizabeth Stevenson officiating; interment to follow in Wesley United Cemetery, Browns Flat.
In lieu of flowers, donations may be made to Harmony United, John T. McMillan Jr Memorial Foundation, CNIB, Bobby's Hospice, or a charity of choice. Online condolences and donations may be made at www.brenansfh.com