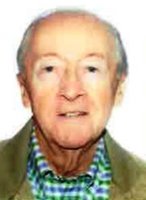 Robert "Bob" Milton Newdick
A life well lived

The Newdick family announces with grief the loss of beloved husband, father and grandfather Robert (Bob) Milton Newdick. After a long illness, Bob passed Friday, 13 December, 2019 at Embassy Hall, Shannex, aged 80 years. Bob will be loved and missed by his wife of 58 years, Sharon and his children, Glen Newdick, Kristin Newdick-Henderson and Julie (Gordon) McNamee; as well as the grandchildren he loved so much, Abby, Sarah, Kate, Jamie and Austin. He will also be missed by his son-in-law, Mark Henderson. Bob will be fondly remembered by many other family members and friends especially Jim and Carol McNamee who were by his side until the end.
Everyone who knew Bob was struck by his gentlemanliness, honour and willingness to help those in need. He was also well known for his amazing sense of humour.

Bob's contributions to his community are numerous. After a long career in the stock market, Bob and Sharon established McDonald's Restaurants in Greater Saint John, sponsoring activities and making numerous donations corporately and personally. Bob's volunteer activities included chairing the United Way, sitting as a long-time board member of the Boys and Girls Club and serving as President of the St. Joseph's Hospital Foundation.
The family would like to recognize and give great thanks to the wonderful staff of Embassy Hall, Shannex. We would also like to thank Doctors Pamela Jarrett and Joanne Fellows for their wonderful care of Bob.
In accordance with Bob's wishes and instead of a funeral service, the family invites all those who would like to pay their respects to a reception which will be held January 6th at Shadow Lawn Inn, Rothesay from 4:00 until 6:00 PM. A toast to Bob and prayer will take place at 4:30 PM. Arrangements are under the care and direction of Brenan's Funeral Home, 111 Paradise Row, Saint John (634-7424).
In lieu of flowers, those who so desire may make a donation to the South End Community Centre c/o the Boys and Girls Club of Saint John. www.BrenansFH.com