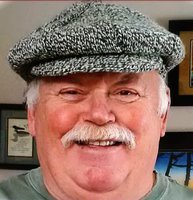 Roy Shannon
"Let me live by the side of the road, and be a friend to man"
Unexpectedly, on January 8, 2020, Roy passed away in his favourite place in the world, home.
He leaves behind his beloved wife, Ruth, his cherished daughter, the apple of his eye, Jamie (Adam); mother-in-law Bea Mealey (lovingly known as Chuck!); siblings Sue Hunter (Bob), Ann Campbell, Brian Shannon (Barb), Richard Shannon (Brenda); sisters-in-law Barb Galbraith (Paul), Jane Mealey and Anita Phillips; as well as many, much loved, nieces, nephews, extended family and dear cousins.
Roy was predeceased by his parents Don and Rita, his 1st wife Kathy and her mother, Granny Bea, and his brother Larry.
Roy's zest for life was unparalleled. Every day was a new adventure and he embraced each day with enthusiasm. His work life was always in the automotive aftermarket business where he made true and loyal, lifelong friends. His personal life was all about family, friends, community, and a life shared with Ruth on his slice of heaven on earth, his home on Pickett Lake.
Arrangements are under the care of Brenan's Funeral Home, 111 Paradise Row, Saint John, N.B. (634-7424). Visitation will be held on Saturday, January 18, 2020 at the Kingston Trinity Church Hall from 12:00 – 2:00 and will be immediately followed by a funeral service in Trinity Church Kingston at 2:30. Donations in Roy's memory may be made to MacDonald Consolidated School Student Lunch Program, Hampton High School Student Lunch Program, a local food bank of choice, or to a charity of the donor's choice. Online Condolences may be made at www.BrenansFH.com