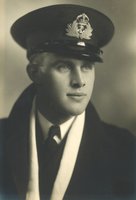 Frederick Knight Fowler
Fowler
Frederick Knight
August 1st, 1918 - January 10th, 2020
Fred was born on August 1st, 1918 and raised in Saint John, New Brunswick, the only child of Ethel Beatty (Knight) and Fred White Fowler. Fred passed peacefully at Ridgewood Veterans Wing, Saint John, NB on January 10th, 2020.
Fred was born in the Evangeline Maternity Home on Princess Street, and grew up on Wentworth Street, spending most of his youthful days at the YMCA, active in gymnastics, swimming and the leadership program. Summer holidays were spent sailing on the Kennebecasis River, caddying and playing local golf courses with his parents.
Following graduation from Saint John High School in 1935, Fred entered UNB with plans to complete a Civil Engineering degree. This plan was interrupted by the advent of World War II, and the question put to so many young Canadians - which branch of the armed forces to join? Always interested in flying, Fred seriously considered joining the Royal Canadian Air Force as a fighter pilot, until his mother learned that the average lifespan of a novice fighter was six weeks, and put a stop to that idea. So, Fred signed up for the Royal Canadian Navy Volunteer Reserve, commonly referred to as the 'Wavy Navy', because of the curvy
rank insignia on their sleeves. In 1940 he was seconded to the Royal Navy in Britain. After basic training in Scotland, he was posted to the destroyer
HMS 'Fearless'. While escorting a convey through the Mediterranean Sea, Fearless was attacked by Italian bombers and torpedoed. As one of the last officers to leave the ship, Fred attempted to save the first object he saw in his cabin, his guitar, throwing it over the side of the listing vessel. It was last seen trailing astern at some 20 knots! Fred made it to the HMS Forester on a 'floatanet', (cork floats tied together). Fearless was past saving ( with jammed rudder and close to enemy air fields), so Forester torpedoed and sunk her.
Following operations off the coast of Africa in HMS Highlander, Fred was reassigned to another British destroyer with a first lieutenant who had no love for 'colonials', so Fred requested and obtained a transfer to His Majesty's Submarines (Silent Service). Fred was one of six Canadian naval officers to have served in that capacity. Twice mentioned in dispatches for valiant conduct in the presence of the enemy, Fred served on His Majesty's Submarines 'Sceptre, Truculent and United' in the North Atlantic and along the coast of Norway.
While on leave, Fred dated and became engaged to Catherine Jane Schofield, also of Saint John. Towards the end of the war, Fred was stationed in Bermuda and second in command of a British submarine; as an anti-submarine training boat for the Allied Forces. It was still a few weeks before WWII would end, so Catherine's passage to Bermuda for their wedding was classified as 'Secret'. They were married in St. Peter's Church in St. Georges on May 10, 1945. The young couple spent many happy months in Bermuda until Fred was demobilized and reassigned to the Reserve Navy in Saint John.
Once home, Fred and Catherine looked forward to starting a family. Rather than returning to university, Fred joined his father's insurance agency, where he eventually became the principal owner, until his retirement in 1983. He continued to serve in the Naval Reserve as Aide-de-Camp to the Lieutenant-Governor of New Brunswick, the Honourable David Lawrence McLaren. Fred was also a member of the 'Byng Boys' club, for veterans who had seen active service overseas.
Fred's commitment to serve his family and community continued as an active member of the executive of Saint Paul's Anglican Church, where he volunteered as warden and director of the building committee for the Church Hall. Throughout his life, he volunteered with the Rotary Club, and after retirement remained active in the YMCA, Red Cross, and also delivered Meals-on Wheels, well into his 70's.
An avid skier since childhood, Fred and family rekindled this enthusiasm at Poley Mountain in 1959. Fred was a founding director, and at one time, President of the ski hill. Finding the travel between Saint John and Poley Mountain with four children somewhat inconvenient, Fred and Catherine built the first permanent cottage close to the mountain in 1966. Spending the day on the hill with Catherine and the children, later grandchildren, and skiing in Austria, were some of his favourite activities that he pursued into his 80's. Fred learned some German and French to enhance their travels in Europe. Later, Fred and Catherine toured Europe, backpacking by car, train and bus.
Fred's love of flight never abated. In his 50's, he learned to fly, obtaining his private pilot's license, and later his aerobatic certification. After he purchased a small plane to act as the 'tow', Fred and a group of like-minded fliers started a soaring club near Sussex with a couple of gliders.
Fred earned his gliding instructor's certificate and shared his passion for flying until health issues (and doctor's orders) finally grounded him.
Fred lived in the family home until January 2019, fiercely enjoying his independence and privacy. His days were filled with reading (news and mysteries), baking bread or his favourite cookies, and completing the daily newspaper's crossword puzzle in minutes. "They tend to repeat the puzzles" was his comment on his speed. His discovery of YouTube allowed him to enjoy much-loved operas, music, dance and ballet troupes from around the world, in the comfort of this home. His was a life of new adventures and one that was well lived.
Fred was pre-deceased in 2004 by Catherine, his wife of almost 60 years. Fred will be greatly missed and is survived by his four children: Peter Fowler (Kin May), Quadra Island BC: Pamela Fowler, Toronto ON: Douglas Fowler (Jacquelyn), Quispamsis NB: Judith Langelier (Douglas),
Calgary AB: Three grandchildren: Catherine Fowler (Tim O'Leary),
Toronto ON: Andrew Fowler (Sarah), Sydney AU: David Langelier (Rob Luini), Toronto ON: Two great-granddaughters, Leah and Alana Fowler, Sydney AU.
The family would like to thank David Mowatt for his many years of friendship and laughter during his weekly luncheon visits, and the staff at Senior Watch, who made it possible for Fred to live at home until well after he turned 100. Special thanks are also extended to Ridgewood Veterans Wing for their care and support.
A private family memorial gathering will be held at a later date. Condolences may be sent to Brenan's Funeral Home, Paradise Row, Saint John NB. Anyone wishing to make a donation, please give to Ridgewood Veterans (RVW) Field of Flags Campaign, for the purchase of a new mobility bus.