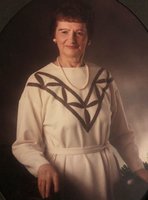 Leola Constance Beamish
The Death occurred on January 12th, 2020 at Loch Lomand Villa in Saint John, New Brunswick of Leola Constance Beamish age 93 years. Leola is the last surviving member of her Beamish family and lived and worked in Saint John most of her life. She was predeceased by her parents John F. and Mary Ann (Steele) Beamish, her brother and his wife John and Catherine Beamish, Toronto, ON; sisters Mary Hatheway, Saint John, NB; Margaret and husband Earl Lawson, Oakville, ON; Dorothy (in infancy); and her twin sister Viola and husband J.A. MacLellan, Charlottetown, PEI.
Leola never had children of her own but had developed close relationships with her 22 nieces and nephews over the years and especially those from PEI who were able to visit more often. She was especially happy and entertained when her grand and great grand nieces and nephews came to visit.
Leola had a long career working in Saint John, notably many years at the Woodhouse department store and then at the switchboard of both the Saint John General & Saint John Regional Hospitals before retiring at age 65.
Leola will be missed, especially by her nieces and nephews and their families from PEI, Joe & Kristen MacLellan, Mary Ann MacKay, Greg & Geraldine MacLellan, Wendy & Peter Walker, Geoff & Tamara MacLellan, Rob MacLellan & Stephanie Drake.
Arangements are under the care of Brenan's Funeral Home, 111 Paradise Row, Saint John, N.B. (634-7424). A mass of christian Burial will be held at the Cathedral of the Immaculate Conception on Friday, January 17, 2020 at 12:10 PM. Donations in her memory may be made to a charity of the donor's choice or to The Door Is Open - Roman Catholic Archdiocese of Vancouver https://rcav.org/donate-the-door-is-open/. Online condolences can be made at www.BrenansFH.com