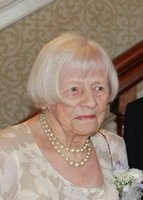 Selena Kathleen Gillies
Selena Kathleen Gillies
"When we listen, we learn.
When we know better, we do better."
The family of Selena K Gillies, wife of the late James R Gillies and daughter of the late Captain Hugh G McMurtry and Viola P (McMurtry) D'Arcy of Nova Scotia and Grand Manan, announces her death at Bobby's Hospice, Saint John, on November 18, 2020. Selena was born on July 31, 1927 in St Stephen and raised on Grand Manan. She is survived by son, the Rev J Peter Gillies (Greer Stackhouse), daughter Susan G Wallace (Michael) of Saint John, and grandchildren J Jesse Gillies, Fredericton, Gray Gillies Mott (Matthew Mott), Saint John, Emma Gillies (Steven Suntres), Saint John, and Hannah Wallace (Jordan Wight), St John's, as well as several nieces and nephews.
Besides her parents, Selena was predeceased by her sisters Marjorie Westhaver (the late Eugene), Fredericton, Sgt Marion McMurtry, CD, Ottawa, and Ruth Stevens (the late Perley), Saint John, and great-granddaughter Bridget Gillies Mott. She was the last of her immediate family.
Thank you to a special homecare worker, Diane Phillips, and the caring staff at Bobby's Hospice.
Visiting will be at a later date. Private service and interment on the Belleisle at Kiersteadville in the summer of 2021. Brenan's Funeral Home is in charge of arrangements. Memorial donations may be made to Bobby's Hospice or to the faith community of one's choice.