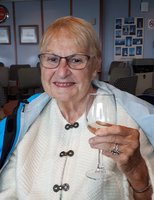 **UPDATED Mary Lou Cronin
Mary Lou Cronin died at her residence in Saint John on November 23, 2020. Mary Lou was born in Saint John and lived for most of her life in Millidgeville. Daughter of the late Honourable Louis McC. Ritchie and Mary C. Ritchie, she attended school at Holy Trinity (Saint John), the Sault-aux-Recollets Sacred Heart School (Montreal), Gloucester Street Convent (Ottawa), and St. Vincent's High School for Girls (Saint John). Following graduation from Modern Business College in Saint John, she held positions with Reevey Blackmore, Burhnam Laws and Page, Clarkson Gordon/Ernst & Young, and Heustis Insurance Group. She is survived by four children: Cathy McDonah (Don) of Nashua, NH, Geoff Cronin (Kym) of Mississauga, ON, Mary Beth Cronin (Susan) of Martinon, and Moira Dodds (Chris) of Mississauga, ON; eight grandchildren Liam, Caitlin and Mollie McDonah of Nashua, NH, Madeline Dodds of Manchester, England, Jared Dodds of Mississauga, ON, Ainsley, Connor, and Patrick Cronin of Mississauga, ON; and two sisters: Judith Anne Ritchie of Montreal and Margot (David) Russell of Fredericton. She is also survived by her great friend Roz Mooney of Saint John. In addition to her parents, she was predeceased by two sisters, Eugenie and Margaret.
Following unenthusiastic attempts at sports like tennis and golf (suggested by her father), Mary Lou discovered her love of music and, with her beautiful soprano voice, was a popular Saint John soloist and an active member for many years of the Friends of Music, the Tom Hahn Singers, and the NB Opera Company. She devoted many hours of volunteer time to the Saint John Liberal Association and to the NB Festival of Music. An avid opera fan, she was a regular at the Met in HD performances shown in local theatres but enjoyed even more those bus trips of Saint Johners' to see live Met Opera performances in NY. She even more thoroughly enjoyed time with her children and grandchildren when they lived in Saint John and then her frequent trips to visit them. She missed them terribly as visits became less possible.
Relatives and friends are invited to attend the Mass of Christian Burial, which will be celebrated from the Cathedral of the Immaculate Conception, 91 Waterloo Street, Saint John on Saturday, July 23, 2022 at 2:00 PM. Interment will take place in St. Joseph's Cemetery. Arrangements are under the care and direction of Brenan's Funeral Home, 111 Paradise Row, Saint John (634-7424).
Donations in memory of Mary Lou can be made to Bobby's Hospice, the Cathedral Restoration Fund or a charity of the donor's choice. Online condolences may be placed at www.BrenansFH.com.