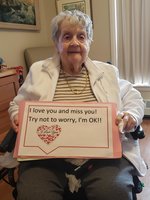 Ernestine Dean
It is with deep sadness, and gratitude for a lifetime of memories that the children of Ernestine J. Dean announce her passing, which occurred on Saturday, January 9, 2021 at Shannex – Tucker Hall. Born in Saint John on August 18, 1931, she was a daughter of the late F. Ernest and Verna (Foster) Baxter.
Mom was born and raised in the North End, spending her summers in Morna. It was her love and fond memories of those summers that led Mom and Dad to eventually move there on a permanent basis. Mom loved having company, so there were many happy gatherings that would usually end with having a cup of tea under the tree in the front yard enjoying the view of the river.
After completion of her studies at Modern Business College, Mom went to work at her family's business, Baxter Dairies. She worked until we were born and then she chose to be home with us.
Mom also loved to travel, and we have wonderful memories of trips to Cape Breton and adventures camping.
After Dad passed, Mom moved into the Admiral Beatty Complex where she spent many happy years. She made many new friends and enjoyed the social times that were held there. She loved living uptown and enjoyed shopping in the city Market and Brunswick Square. Mom loved to get out and see people.
The past two years were spent at Shannex Tucker Hall where she met a new group of friends who would gather every evening.
We would like to thank her friends and the employees of Tucker Hall for being so good to her.
Mom will be missed by her children: Jean and Brian (Catherine); grandchildren, Emily (Eric), Landen (Stephanie) and Simon; great-grandchildren, Levon and Hayden; sisters, Katherine Nickson, Marjorie Cooper (John) and Judy Button (Michael); as well as several nieces and nephews.
In addition to her parents, she was predeceased by our father, Fred Dean, in 2003, infant grandchildren Noah and Maggie, and a sister, Muriel Baxter.
Mom was a friend to everyone she met. She was a calm, loving, gentle soul. She was unassuming and had a way of making people feel warmth and comfort when they were with her. She had quiet strength which guided her through the difficult times in her life.
We love you and miss you! Bye now.
Arrangements are under the care and direction of Brenan's Funeral Home, 111 Paradise Row, Saint John, NB (634-7424). Due to current public health restrictions, a Celebration of Ernestine's life will be held at a later date. For those who wish, remembrances may be made to St. Luke's Anglican Church or a charity of the donor's choice. Online condolences may be placed at www.BrenansFH.com