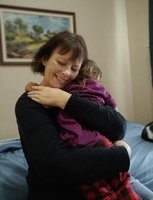 Jayne (Brawn) Vandenberghe
Jayne (Brawn) Vandenberghe
Our Warrior, Jayne (Brawn) Vandenberghe, passed softly January 18, 2021, at Bobby's Hospice with her family by her side, holding her hand. While sleeping, her breath changed for a moment and then she went Home.
Jayne was born on May 17, 1957, in Fredericton, NB, as the eldest daughter of Jean (Palmer) and her late father Norwood Brawn.
Her parents founded Tay Valley Bible Camp and Jayne grew up swimming in the river, hiking to the cliffs, hugging their family pig Bertha, and celebrating life in Jesus Christ.
As a child she was a true "rebellious" preacher's kid, as she's always been a free spirit who followed her heart. She left home with her friend to hitch-hike across Canada in the 70s, spending time living in Montreal and later Edmonton. She worked at a youth shelter and continued seeking compassionate livelihood. She was not bound by convention and wasn't one for punching in on someone else's clock. She was a born entrepreneur, who over the years free-lanced website design, owned a fashion store "The Wardrobe" in uptown Saint John, and sold hand-picked vintage treasures online.
From the moment her daughter was born in 1989, Janessa became the center of her world. Jayne and Janessa had one of the deepest bonds of companionship a mother and daughter could have. This deepened as her longed for grand-daughter, Soul Jaye, gave her even more reason for celebrating life.
She was always happy when paddling, camping on a river bank, snow-shoeing or cross-country skiing the open woods, and going for day drives with her husband, as an always curious lover of nature and wildlife. She had a special connection with birds, especially the common crow. When asked by Janessa how she may communicate with her if she passed, she said "I'll be with the birds".
Jayne was diagnosed with bladder cancer in 2011 and had absolute resolve to heal naturally. She shocked doctors with "spontaneous remission" and vanishing tumors in between cystoscopies. She was resilient and pointed in her decisions to follow her Truth, refusing chemo, radiation and organ removal. With personal research she learned how to work with her cancer for years. Staying true to her body and her Knowing, she never shook in her resolve. This has expanded our hearts deeply to witness.
Anyone who knows our Warrior, knows she stood for her Truth and justice across many injustices in our society. In community, rallies, posts, groups, campaigns, she made her voice clear for us all. From fracking, spraying, chemicals, cutting, clearing, Indigenous rights, government, business, medical sovereignty, and informed consent - she has never shied away from speaking up.
Although Jayne is Home now, the last year of her life highlighted all of these passions and virtues of hers. She took a trip to Mexico with her daughter and granddaughter. She gave special care and attention to her precious Soul Jaye, picking out a swing set and sand bucket for her, among so many other thoughtful gifts. Soul Jaye spent many afternoons in her grandmother's arms watching Peppa Pig. Janessa moved back to Canada for the year, and they got to spend her last year under the same roof, growing and healing together. For Jim and Jayne, this year was especially tender. They went for long scenic drives around the New Brunswick countryside, and spent almost every moment together, bonding over natural healing, trips to the acupuncturist, memories, movies, and the sacredness of life.
She is survived by her husband Jim Vandenberghe of Saint John, NB, and daughter Janessa Lew (Raymund) of San Francisco, CA, parents of her sweet baby grand-daughter: Soul Jaye Lew and sibling(s) on the way in 2021; one brother: Tim Brawn of Fredericton, NB; two sisters: Rebecca Greer (Jim) of Sussex, NB, Melodee Williams (Bruce) of Houlton, ME; two nieces: Daphne Hegreness (Jeff) of Pueblo, CO, Rachel Carmichael (Randy) of Houlton, ME, and their children; four beloved cats: Bailey, Princess, Otis and Junebug.
Due to the current world we're living in, there will be no visitation. An online funeral service will bring together friends, family and freedom fighters to celebrate Jayne's life with a gospel message, as she would love. The online service will precede an intimate family gathering for interment in Fernhill Cemetery. Remembrances can be made to Saint John Regional Hospital Palliative Care, Hospice Greater Saint John Bobby's Hospice or Cat Rescue Maritimes (CARMA) Saint John Chapter. Online condolences or expressions of love may be placed at www.brenansfh.com.
Jayne's Online Funeral Service:
Date: Friday, January 22, 2021
Time: 12:00 PM Atlantic
Join the online Funeral Service here:
https://us02web.zoom.us/j/86190533222?pwd=cEJZSWVFVmoxMDBXM0lVL1RlVkVsdz09
Before joining a Zoom meeting on a computer or mobile device, you can download the Zoom app from https://zoom.us/download. Otherwise, you will be prompted to download and install Zoom when you click the join link above.