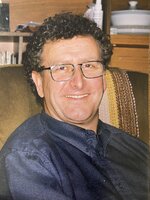 Barry Cohen-Thorley
Barry Cohen-Thorley emigrated to Canada in 1967 from England embracing his new home with enthusiasm and joyful expectation. Over the next 5.5 decades, Barry created a life of diverse interests earning his way in sales and eventually answering a personal call to the ministry. After completing his studies at the Atlantic School of Theology in Halifax, Barry was ordained a Deacon on November 29, 1976, and as a Priest in 1977 serving in various parishes in NB and eventually settling in Saint John. He retired from the ministry in 1993. Barry married his soul-mate, Shelley Cohen in 1995. Together they faced the challenges that Barry's Parkinson's disease presented. Never allowing the disease to get the best of him, Barry persevered with an optimistic and motivated outlook that earned the admiration and respect of all. Throughout the 26 years of their marriage, Barry devoted himself to loving and nurturing Shelley as well as participating in his special hobbies: gardening, cooking, music, and scrabble. His most memorable times were summers spent in Coles Island where wonderful friendships were created and fun times were had. Barry treasured his friendship with Ed and Sharon Hamilton - "body guard and cherry pie-maker extraordinaire" - respectively, as well as his loving care-giver Kim Campbell who brought light and laughter to a very difficult situation.
Barry was blessed with five children; Alan (Sue), John (Rachel), Sarah (Joe), Kate (Geoff), and Michael (Stephanie). He was a devoted and proud grandfather to Wren, Emily, William, Dominik, Jada Ruth, Ezra, Elly, Andy and Charlotte.
Barry was the son of the late Harry and Peggy Thorley, England, and leaves to mourn his sister, Sylvia Hendry and many cousins, nieces and nephews.
Prayers and memories of Barry will be shared at Brenan's Funeral Home, 111 Paradise Row, Saint John (634-7424), on Saturday, November 20 at 1:00 pm. Due to Covid-19 health measures placed on indoor gatherings by the Government of New Brunswick, all those 12 and older attending the service will be required to show proof of vaccination and a piece of a government-issued ID or proof of medical exemption.
In lieu of flowers, acts of kindness and compassion will honor Barry's memory and his love of humanity. www.BrenansFH.com