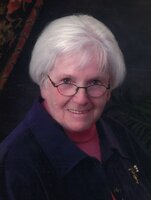 Norma Claire Goggin
It is with great sadness that the family of Norma Goggin (née Clinton) announces her passing on Monday, December 13, 2021, at Tucker Hall, Saint John. Born in Saint John on June 15, 1928, she was the daughter of John J. and Roberta Clinton (née Ellis).
Norma graduated in 1949 from St Joseph's Hospital School of Nursing and spent her career as a nurse and nursing administrator at both the Saint John General Hospital and Saint John Regional Hospital, from which she retired in 1993.
In retirement, Norma developed a passion and talent for genealogy—both within the family and on behalf of various local organizations responsible for community graveyards throughout Charlotte County. She was also an enthusiastic volunteer—with the Saint John Free Public Library and the Maces Bay Cemetery Corporation (she was the grand-daughter of Joseph and Claire Ellis (née Mawhinney) of "the Bay"). Norma was also an expert needle worker, crafting countless cross-stitch pieces, blankets, sweaters, and memento quilts. Her work is proudly displayed in each of our homes.
Norma doted on her granddaughters and delighted in buying them beautiful Christmas concert dresses and treasured keepsakes. In the mid 90s, she treated Caitlin and Valmai to an unforgettable coast-to-coast return trip by plane and train from Saint John to Vancouver, visiting relatives and key sites of interest along the way. Norma loved to chat, and a visit to Nana's house always included peanut butter cookies and much-loved stories about friends and family lore.
She had many friends and was greatly respected by her colleagues in the healthcare sector. Rarely did she visit the City Market without being greeted across the aisle, "Why hello, Mrs. Goggin!".
Norma is survived by her children William (Aimée Carroll) and Claire; grandchildren Caitlin (Glenn Shaw) and Valmai (Andrew Kerr); great-grandchildren Morgan, Rhedyn, and Llewella; brother Philip Clinton, sister-in-law Rose Clinton, brother-in-law Greg Chamberlain, several nieces and nephews, and many friends. She was pre-deceased by her husband Jack, her sisters Eleanor and Ann, and her brothers George, John, Robert, William, and Joseph.
Thanks to one and all for your acts of kindness over the years and particularly of late. Special thanks to Colleen and the late Peter Arseneau, Joan Johnston, Kay Judge, Dale Guitard, Glen Hughes, and the staff of Tucker Hall.
In recent years, Norma found new family in Cindy Perkins, who was Norma's best friend and confidant throughout the last few years. Thank you, Cindy, for your compassion, companionship, and dedication.
Norma expected her family to "get an education" and "work hard". Thanks, Mum and Nana, for being an extraordinary role model!
Arrangements are under the care of Brenan's Funeral Home, 111 Paradise Row, Saint John, NB (634-7424). Due to COVID-19 restrictions there will be no visitation. A private family interment ceremony and celebration of life will be held at a later date. In lieu of flowers, donations may be made to the Maces Bay Cemetery or a charity of one's choice. Online condolences may be placed at www.BrenansFH.com