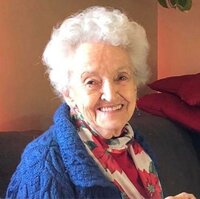 Eva Adshade
On February 8th, Eva Adshade passed away peacefully at her home surrounded by loved ones. She was greatly loved and will be remembered with tenderness by her family. Eva was predeceased by her husband Logan and siblings Florence, Eveline and Laurie. She will be missed by her five children: Gary (Terry) Adshade, Debbie (Larry Belyea) Adshade, Holly Adshade, Diane Adshade and Glenn (Brenda) Adshade.
Whether they called her Memere or Nannie A, she was dearly loved by her nine grandchildren: Kim, Jazmine, Crystal, Tara, Matthew, Cora lee, Jaime, Haley and Joey; and her six great-grandchildren: Jordan, Lauren, Sierra, Clara, Ivy and Charlie. Eva was a caring aunt to her nephews and nieces and will be missed by the many friends she so easily made throughout her life.
Born December 12th 1927 in Dorchester, NB to Pierre and Margaret Leblanc, Eva was an excellent student finishing her education at Les Petites Soeurs De La Sainte Famille. She studied nursing until she was swept away by a handsome man on a Harley. She married Logan at the age of nineteen and raised five unruly children with finesse. In later years, she reconnected with the health care industry and took up work as the desk secretary in charge of the OR at St. Joseph's hospital. After retirement, she became a volunteer at Meals on Wheels and at Palliative care, where she was a natural at providing comfort for the patients and their family members.
Eva was a spirited and gifted woman; above all, she loved to laugh. She was creatively observant, inquisitive and always up for an adventure. Eva and Logan enjoyed being part of the Beaus and Belles square dancing club. They travelled the world to destinations like Europe, Ireland, Hawaii and Alaska. They spent their winters hauling their fifth wheel, exploring North America and making friends along the way. After Logan's death, Eva continued her adventures with her friends Margie, Kay, Shirley and Connie on bus tours across Canada and the U.S.
Eva was an artist with a sewing needle and a crochet hook. Her quilling was exquisite and detailed. She enjoyed many years as a member of the Spruce Lake bridge club and was a force with a cribbage board. In later years, she attended as many card game socials as possible.
Special thanks to Bayshore caregivers Laura, Vicki and Lana. Thanks also to the extramural team and Dr. Hemmings for helping to make Eva's last days comfortable. Until the day she left us, she was smiling. The words 'I love you' and 'merci' were often on her lips.
Over the years, Eva was owned by several beautiful furry creatures. She loved and spoiled them all. Any donations to the SPCA would be appreciated.
Arrangements are under the care and direction of Brenan's Funeral Home, 111 Paradise Row, Saint John, NB (634-7424). A private family service will be held. Online condolences may be placed at www.BrenansFH.com