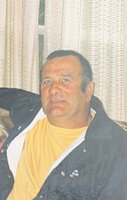 David Roy Shephard
David Roy Shephard, 77, of Saint John NB, passed away on April 6, 2022 at home, surrounded by his family after a brief battle with Cancer.

David was born on December 14, 1944 to Harry Shephard and Evelyn (Gavin) Shephard in Saint John.

David was hardworking and determined to provide a good life for his family.

David started his career as an orderly at the DVA Hospital. Switching paths, with his strong work ethic, led to a 37-year career as a heavy equipment operator with the City of Saint John.

In 1965, David married his childhood sweetheart, Dianne Cooper. Together, they shared 57 years of marriage. He was an adventurous and fun-loving father to his children, daughter; Shelley (Mark Coakley) and two sons; Shawn (Vanessa Shonaman) and Mike (Sandy Crain). He even adopted two honorary children later in life, Todd and Kim Clowater.

Known as a playful and thrill-seeking man, Dave loved fast cars, dirt biking, and anything built for speed. He was always surprising his family with something; whether it be spontaneous road trips to PEI or a good practical joke.

Dave was passionate about making, creating or fixing anything, and could always be found in his garage.

Dave was the proud grandfather of ten; Natasha, Chyann, Michaela, Laura, Noah, Dylan, Tyler, Madison, Mason, and Evan.

Dave loved spending time with his grandchildren, taking them on many adventures.

David was predeceased by his sisters; Margie and Betsy. He is survived by his brothers; Billy and Peter.

The family would like to thank David's medical team and Extra-Mural for the guidance and support during their difficult time.
Arrangements are under the care and direction of Brenan's Funeral Home, 111 Paradise Row, Saint John, NB (634-7424). Visitation will be held on Tuesday, April 12, 2022 from 10 am – 1 pm with the funeral service at 1:00 pm in the chapel. Donations in David's memory can be made to Bobby's Hospice & Saint John Regional Hospital – Palliative Care. For those who wish, condolences may be made by visiting www.BrenansFH.com.