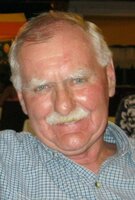 Ronald Keith "Ronnie" Mawhinney
It is with great sadness that the family of Ronald Keith Mawhinney announces his passing which occurred on Friday, May 20, 2022, at the Saint John Regional Hospital. Born in Saint John, NB, on September 4, 1949, he was the son of the late Keith and Helena (Walsh) Mawhinney.
He is survived by his loving spouse of 25 years, Denise Losier; sister-in-law, Dianne (Ernie) Savoy; brother-in-law, Michael Losier; his fur babies, Odis, Milo, and Snowy.
Ron grew up in Maces Bay and his community roots ran deep. Every November, on the first day of the fall lobster season, he would rally a small crowd of friends and neighbours to join him at the Dipper Harbour wharf so they could send the fishers off with some hot coffee and warm wishes, and for more than 30 years, Ron shared his knowledge of the area and its people with the Point Lepreau Generating Station as a member of its community relations liaison committee.
Ron was a member of the Luxor Shriners and a member of the Albion Masonic Lodge. He was an owner and operator of Atwater Seafood before becoming a property manager for LTS Investments (Dobson Group). He also loved travelling to Jamaica with his beach buddies, Brian and Joanne Buckley.
Arrangements are under the care and direction of Brenan's Funeral Home, 111 Paradise Row, Saint John, NB (634-7424). With visitation on Tuesday, May 24, 2022, from 6:00 – 8:00 PM. Donations in memory of Ron may be made to the SPCA of Saint John and to Harmony United Church. Online condolences may be placed at www.BrenansFH.com