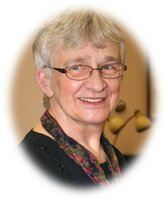 Sister Marie Bitz
Sister Marie Anne Bitz (Sister M. Clarice) peacefully went Home to her God on October 9, 2022, at Ruth Ross Residence in Saint John, New Brunswick. Born in Regina, SK, on December 24, 1937, she was the daughter of the late Frank and Angelina (Ell). She received her education in Holdfast, SK and entered the Sisters of Charity of the Immaculate Conception on July 8, 1954.
Sister Marie began her teaching ministry in 1959 in Winnipeg, MB, and continued to Vancouver, BC , Saint John and Fredericton, NB until 1978. She became the Religious Education Coordinator at St. Dunstan's Parish in Fredericton until 1986 and then appointed Vocation Director for the Sisters of Charity until 1994. Later she ministered in Spiritual and Religious Care at St. Joseph's Hospital in Saint John.
Sister Marie was an "artist extraordinaire" ~ While she possessed many and varied talents, such as teaching her students the intricate art of crochet, her creativity especially shone as a painter and gardener. She saw possibilities for both canvas and soil. Each of her creations became colorful expressions of her love of nature and her desire to provide enjoyment for others. At St. Joseph's Hospital, she nurtured community spirit by encouraging the staff to make unique decorations and then decorate their Christmas tree entry for the annual Festival of Trees. Their "Seeds of Hope" tree was judged the most beautiful entry in 1996. Others were "Hope for the Flowers", Fan the Flame" and "Sound the Trumpet". In 2000, Sister Marie received the New Brunswick Catholic Health Association Performance Citation Award.
Survived by her sister Gwendolyn Schmidt (North Vancouver, BC). Predeceased by her parents Frank and Angelina (Ell) Bitz, sisters Angelica Schluchter and Monica Anklewich, and brother Charles.
A private Mass of Christian Burial will be celebrated at Ruth Ross Residence on Thursday, October 13, 2022, at 10am with a public graveside service to follow at St. Joseph's Catholic Cemetery. For those unable to attend, the service will be livestreamed and can be viewed by visiting Sr. Bitz's obituary on the Brenan's website. Arrangements are under the care and direction of Brenan's Funeral Home, 111 Paradise Row, Saint John (634-7424).