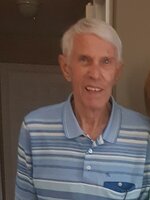 Walter Irvine Rees
It is with broken hearts, yet gratitude for a life well lived, that the family of Walter Irvine Rees announce his peaceful passing which occurred on Monday, January 30, 2023, at Bobby's Hospice.
Walter was born in Central Cambridge, NB on May 18, 1937. He was the son of the late Marshall Rees and Catherine (Cassie) Stewart. He was predeceased by his five brothers, Elvin (Verna), Royden (Harriet), Lawrence (Dorothy), Fred (Lois), and Maurice (Irene).
Walter worked as a timekeeper at the Saint John Drydock for 17 years, until he had his massive coronary. He was always very handy with fixing clocks, watches, alarms, etc., and this eventually lead him to a business with Simplex International Time Equipment. He retired in 1990, and passed the torch to his son, Brent.
Anyone who knew Walter, knows that he was an avid weather watcher. He always knew when a snowstorm or weather event was coming, and he worried about his kids and grandkids until they were home safe and sound.
He loved to hunt and fish, and our family enjoyed many great meals of deer, trout and partridge, prepared by his wife, Marilyn. He had an incredible eye for spotting a partridge, as anyone who hunted with him could attest to.
Walter was a man of great faith and a devout follower of Jesus, which is a great source of comfort to the family. He served as a board member, a greeter, an usher and a counter at both Bethany Pentecostal Church, and Full Gospel Assembly.
Walter is survived by his loving wife of 62 years, Marilyn, daughter Kim (Jim), son Brent (Jeannette), and his two beautiful granddaughters Jessica and Jordyn, as well as several nieces and nephews.
The family would like to extend their sincere thanks to the staff at Bobby's Hospice for the wonderful care they provided. Our family is so very grateful for the kind and compassionate care he received in his final few weeks.
Arrangements are under the care of Brenan's Funeral Home, 111 Paradise Row, Saint John, NB (634-7424). A funeral service will be held from The Full Gospel Assembly on Thursday, February 16, 2023, beginning at 1:30 PM. A visitation will take place prior to the service from 11:00 – 1:00 PM. A reception will follow in the church hall. Interment will take place in Cedar Hill Extension Cemetery at a later date. Donations can be made to Bobby's Hospice, Canadian Cancer Society, or the organization of the donor's choice. Online condolences may be placed at www.BrenansFH.com