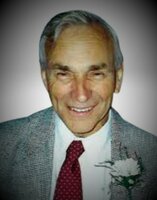 Stuart Urquhart
On Monday, March 6, 2023 Charles "Stuart" (Stu) Urquhart passed away peacefully with his loving wife by his side at the Turnbull Nursing Home. Stuart was the sixth and the only surviving member of nine children, born to the late Arnold and Leota (Reicker) on September 16, 1925 at the family farm in Beulah, Kars, NB.
Stuart began his mechanical career while living on the family farm. One story often told was when he decided the family car, a 1936 Ford, was in need of repairs which required the removal of the seats. Soon he added some crates for seats and took a couple of his siblings for a ride which ended with them going through the back of the machine shed. Without a job, he headed to the big city (Saint John), walked the streets until he found work and eventually joined the local Chev. Dealership and later moved to the Ford dealership. From 1963 to 1997 he worked as a Pipe Fitter at the Saint John Shipbuilding and Dry Dock retiring at the age of 72.
Stuart is survived by his wife of almost 50 years, Eleanor Mae (McSavaney); his sisters-in-law, Verna (Ranald) and Alice (Ralph); as well as many nieces and nephews. He was predeceased by his brothers, Ranald, Ralph and Malcolm; sisters, Margaret (Killeen), Mary (Grass), two infant sisters and a brother.
The family would like to express their gratitude to the staff at Turnbull Nursing Home for their loving and compassionate care while Stuart was with them.
Funeral arrangements to be announced at a later date. Arrangements have been entrusted to Brenan's Funeral Home, 111 Paradise Row, Saint John (634-7424).
For those who wish, condolences to the family and donations in memory of Stuart may be made to the charity of the donor's choice through www.BrenansFH.com.