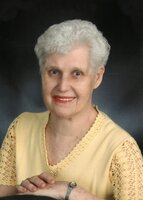 Ruth Elizabeth Durley
It is with extremely great sadness that the family of Ruth "Betsie" Elizabeth Durley passed away peacefully on March 10, 2023. Born on October 31, 1940, Ruth was the youngest sibling of Ralph and Mary (Snodgrass) Munro.
Ruth in her younger years worked in the insurance field. Upon finishing her career, she became involved in activities such as Bowling and getting more involved in the church. Ruth was very strong in her Faith she was a member of the Probus Women's Club and a greeter at St. Mary St Bartholomew's Anglican Church. Ruth enjoyed her visits to Crystal Beach in the Summer and St. Pete's Florida in the winter along with her sister Mary and great friend Dorothy (Dot) Titus. Ruth also looked forward to her Christmas Shopping trips to Bangor with daughter-in-law Donna and all the girls. Ruth & Dave for years enjoyed their trips to Toronto to see their favorite Baseball Team "The Blue Jays "
Ruth is leaving behind 2 sons David (Jacqueline) Durley, and Mark (Donna) Durley. Grandsons Joshua (Tiffany), Jeffrey, Zachery, and Benjamin. Great-Grandsons Everett, Lennon, and James. Also, her sister Mary Sullivan and several nieces and nephews.
Besides her parents, Ruth was predeceased by her loving husband Dave Brothers Junior, Bobby, William (Billy) and sister Dorothy.
Ruth and Dave enjoyed their 4 grandsons, then came along 3 great grandsons which they both enjoyed immensely.
Arrangements are under the care of Brenan's Funeral Home, 111 Paradise Row, Saint John (506-634-7424). The funeral service will be held at St. Mary and St. Bartholomew's Anglican Church (646 Westmorland Rd, Saint John) on Wednesday, March 15, 2023, at 1 pm with the family available to receive personal condolences from 12 pm – 1 pm. Interment to follow at Greenwood Cemetery (1380 Sand Cove Road, Saint John). Donations is Ruth's memory may be made to St Mary St Bartholomew's Anglican Church or to a charity of the donor's choice.
Online condolences may be made by visiting www.BrenansFH.com