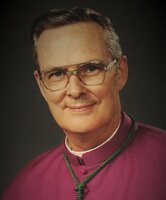 Most Rev. J. Edward Troy
Tenth Bishop of Saint John
In thanksgiving for a life well-lived, the Diocese of Saint John, and the family of the Most Rev. J. Edward Troy, Bishop Emeritus of the Diocese of Saint John, announces his peaceful death at Rocmaura Nursing Home, Saint John, NB, on Sunday, March 12, 2023. Born in Chatham, NB in 1931, Bishop Troy was the son of the late Judge J. Thomas Troy and Lillian (Barry) Troy. He was raised in Campbellton, NB where he attended local schools. He attended St. Thomas University in Chatham, later transferring to St. Francis Xavier University in Antigonish, NS from where he graduated in 1951 with a B.A. (Summa Cum Laude). Having been awarded a Belgian government bursary, he studied at the University of Louvain, Belgium, obtaining a Bachelor of Philosophy degree in 1952 and a Licentiate of Philosophy in 1954.
In the fall of 1955, he entered Holy Heart Seminary in Halifax where he studied theology for the next four years. He was ordained to the priesthood for the Diocese of Bathurst at St. Thomas Aquinas Church in Campbellton in 1959 by Bishop C. A. LeBlanc. After a brief period as a parish assistant following his ordination, he was loaned to the Diocese of Saint John and assigned to the staff of St. Thomas University in Chatham from 1959-1963. During that period he completed his doctoral thesis in Philosophy at the University of Louvain and was awarded a Ph.D in 1962.
In addition to teaching duties, he engaged in pastoral activities as a part-time chaplain in the Royal Canadian Air Force. In 1963, he joined the chaplaincy service of the Canadian Forces where he remained for the next 21 years. In 1984, while serving as Director of Chaplaincy Administration at National Defence Headquarters in Ottawa, he was appointed by Pope St. John Paul II as Coadjutor Bishop of Saint John, NB and was ordained to this office on May 22, 1984. He succeeded Bishop Arthur Gilbert on April 2, 1986. Bishop Troy was the Tenth Bishop of Saint John, Canada's seventh oldest diocese, established in 1842.
During his episcopacy, in addition to fulfilling the role of diocesan bishop, he participated in the activities of the Canadian Conference of Catholic Bishop (CCCB) and served as a member of the Episcopal Commission for Social Communications, Co-Chairman of the Anglican-Roman Catholic Dialogue for Canada, Episcopal Promoter for the Apostleship of the Sea, the Episcopal Theological Commission, the Episcopal Commission on Ecumenism, and representative of the CCCB on the Board of the Catholic Health Association of Canada. In New Brunswick, Bishop Troy was Chancellor and Chairman of the Board of Governors of St. Thomas University, the Bishops' Representative on the Board of Directors of the New Brunswick Catholic Health Association, and spokesman for the New Brunswick bishops in dealing with the New Brunswick government in the matter of the 1992 hospital legislation, and State Chaplain for the Knights of Columbus. On September 24, 1997, due to ill health, he resigned as Bishop of Saint John.
As well as devoted to his priestly life, he was kind, loving and generous with family and to his community, and will be deeply missed by family and friends. The family wishes to express sincere thanks to those who provided him with unfailing support and comfort in his life's journey.
Bishop Troy is survived by his sister Sandra Berry of Guelph, ON, his brother W. Richard Troy of Santa Monica, CA, many loving nieces, nephews, and cousins. He was predeceased by his parents, his brother Lt. Barry Troy, sister Nora ('Mickey') Russell, brother-in-law Joseph Berry, sister-in-law Pauline Troy, nephews David and Barry Russell.
Resting at the Cathedral Rectory, 91 Waterloo St., on Tuesday, March 21 from 2:00 – 4:00 pm. His remains will be translated to the Cathedral of the Immaculate Conception to rest beginning at 7:00 pm when Solemn Vespers will be prayed. The Funeral Mass will be held at the Cathedral on Wednesday, March 22 at 12:00 pm. Interment will take place at a later date in St. Thomas Aquinas Cemetery, Campbellton, NB. Masses offered for the repose of his soul or donations to the Cathedral Restoration or Rocmaura Nursing Home Foundation would be appreciated.
Arrangements are under the care and direction of Brenan's Funeral Home, 111 Paradise Row, Saint John (634-7424). Online remembrances and condolences may be placed at www.BrenansFH.com.