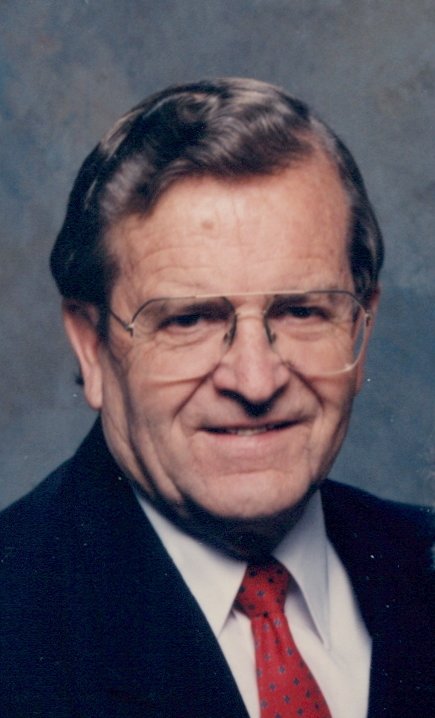 Obituary of Rev. John "Jack" Alexander MacKenzie
MacKenzie, Rev. John "Jack" Alexander --
It is with great sadness but deep assurance that the family of Reverend Jack MacKenzie announce his peaceful passing at Saint John Regional Hospital on May 21, 2019
Jack MacKenzie was born on August 6, 1925, the son of Malcolm and Lillian MacKenzie of Knowsville,the youngest of ten children. When his mother died at a very young age, his eldest sister, Martha, stepped in to raise Jack and his older brother, Wilfred. He often talked with pride about the Triumph motorcycle he owned in his early years.
At the age of 21, Jack's brother, Malcolm, led him to the Lord and there was no turning back. He quickly enrolled at the New Brunswick Bible Institute in Hartland where he studied for his calling. Shortly after graduation, he started his sixty plus years of ministry by joining Reverend Dan Pike, a well-known evangelist and pastor in the Hartland area, as his song leader. Jack often joked years later that he led the song service but then stole Reverend Pike's pianist, his only daughter, Charlene.
Jack and Charlene married in 1951 and began travelling in Evangelistic work. From that time they served side by side in ministry, so much so, that it is almost impossible to talk of his ministry without including her.
While on Grand Manan in evangelistic services, they were called to serve there full time. In response, they moved to Grand Manan with two children and left there eight years later with four. He became an ordained minister of the Wesleyan Church in 1957.
Following his pastorate on Grand Manan, Reverend Jack pastored in Truro, Nova Scotia for 6 years and Saint John, New Brunswick for 12 years. Throughout those years, Reverend MacKenzie was well known and active in activities on the District and at Beulah Camp where he operated a store for many years. Also, throughout those years, the MacKenzie family became well known across the Wesleyan district for their singing.
It was in Saint John that Reverend Jack and Charlene were dubbed "the Rev and the Mrs." by the youth group and are still fondly referred to by that name all across the Maritimes and beyond by people of all ages. It was also in Saint John that they suffered great loss when their son, David, was killed in a plane accident, their church burned beyond repair, and their daughter, Elaine, died of ALS. Yet their faith remained strong.
Reverend MacKenzie led the congregation in the building of a new church, First Wesleyan, on Boars Head Road, followed by a new parsonage. He was later named Pastor Emeritis of that church. During that time, he was well known for his ability to motivate the people to give, especially using a faith- promised based option through which thousands of dollars were raised yearly for missions. He always led by example.
After Elaine's passing, "The Rev" resigned from First Wesleyan and joined the Every Home For Christ Organization and for over 10 Years travelled in Canada, teaching Schools of Prayer. In later years, after his second or third retirement, he made his home at the Wesleyan Manor near Kings church in Quispamsis and later moved to the Chateau de Champlain on Boars Head Road in Saint John where they made many new friends and frequently welcomed visits from old ones.
Throughout his years of ministry, he was known for his support and involvement in bus ministry, his ongoing visitation of his congregation (especially the sick and elderly) and his open door policy in his home. Everyone was welcome at their home or cottage at any time to drop by and stay for an hour or a month, if need be. At Beulah Camp 2017 he was awarded the John Wesley Award, a prestigious award in the Wesleyan Denomination.
Reverend MacKenzie was predeceased by his sons David (1974) and Wayne (2017), his daughter, Elaine ( 1979) and his daughter-in-law, Shirley (2009) ; his sisters , Martha Greer, Lela Brown, and Hazel Smith. Also, his brothers, Fred, Lawrence, Wendell, Carvel, Malcolm, and Wilfred.
He leaves to mourn his wife, Charlene; his son Stuart (Saundra); their children, Grant, Morgan, Hannah and Dylan; great grandson, Mavi.
Arrangements are under the care and direction of Brenan' Funeral Home, 111 Paradise Row, Saint John, NB (634-7424) with visitation on Thursday, May 23, 2019 from 2-4 and 6-8 pm. A funeral service will be held on Friday, May 24, 2019 at 12:00 pm from Saint John First Wesleyan Church, 399 Boars Head Road, Saint John, NB. Interment will take place at Ocean View Memorial Gardens. For those who wish, remembrances may be made to First Wesleyan Church or a charity of the donor's choice. Online condolences may be placed at www.BrenansFH.com
Share Your Memory of
Rev. John "Jack"