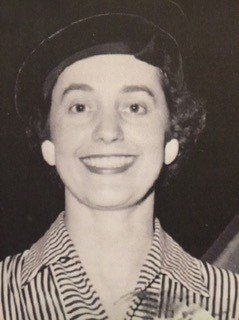 Event Name 1
St. Joseph's Cemetery
327 Westmorland Road
Saint John, New Brunswick, Canada

Get Directions
Obituary of Dr. Monica Mooney
Dr. Monica Mooney (97), a native of Saint John, passed peacefully at Rocmaura Manor, Saint John, NB. on May 8, 2020. Dr. Mooney had a generous and caring spirit. She will be missed by many. She pioneered the way for women in the field of dentistry being one of the first females to graduate from McGill University, Faculty of Dentistry. She was the daughter of Colonel Edward J Mooney and Leah (Nee Franklin) Mooney.
Dr. Mooney excelled as a student and graduated at the top of her class at St. Vincent's High School, Saint John. She continued her studies and graduated from The Provincial Normal School in Fredericton which later became the New Brunswick Teachers' College. World War II intervened. She taught in a one room school house for several years.
Dr. Mooney had her heart set on attending the best dental school in the country, McGill University, Faculty of Dentistry. She applied with outstanding marks and excellent references. She was told during an interview with Dean of the school that if she was a man she would have been accepted but she was competing for a seat at the school with the young men who had spent the last few years fighting for their country. He could not in good conscious risk giving the seat to a young woman who was most likely to get married and leave the program. She was devastated. Luckily, her family dentist was a friend of the Dean and intervened on her behalf; placement in the program was secured. She was the only woman in the program. She enjoyed her time at McGill, graduating in 1951.
To whom much is given, much will be required (Luke 12:48). Having lived a privileged childhood, Dr. Mooney felt it was her duty to care for the less fortunate. She spent her entire career working in public health at free dental clinics. She started as an itinerant dentist in rural Nova Scotia, setting up temporary dental clinics in church halls and schools. She later returned to her home town of Saint John and ran a free dental clinic for the city's poor until she retired.
Dr. Mooney was active in numerous alumni, professional and social societies. She was president of St. Vincent's Alumnae, secretary of Saint John Dental Society, the N.B Chapter of I.O.D.E, and the Membership President at Riverside Country Club in Rothesay, NB. Dr. Mooney was interested in current events, and would never hesitate to write to any world leader if she thought it would make a difference.
Dr. Mooney enjoyed the last 7 years of her life as a resident at Rocmaura Nursing Home. She was active with the Resident Council, taking a great interest in the residents and staff there. She was predeceased by her brother Franklin E.R. Mooney. She is survived by her sister-in-law Mrs. Jean Mooney of Plaster Rock, NB., and Fort Myers, Florida. and her nieces Monica L. Mooney, Marilyn J. Mooney, Lynda L. Conboy, Anne P. Kendall and their families.
Arrangements are under the care and direction of Brenan's Funeral Home, 111 Paradise Row, Saint John, NB, E2K-3H6 (634-7424). Due to the presence of Covid-19, there will be no formal services. Donations in memory may be made to Rocmaura Foundation Inc., 10 Parks St., Saint John, NB E2K 4P1 attn: Sally Cummings- foundation@rocmaura.com,
506-643-7079. Online condolences may also be placed at www.brenansfh.com
Share Your Memory of
Dr. Monica