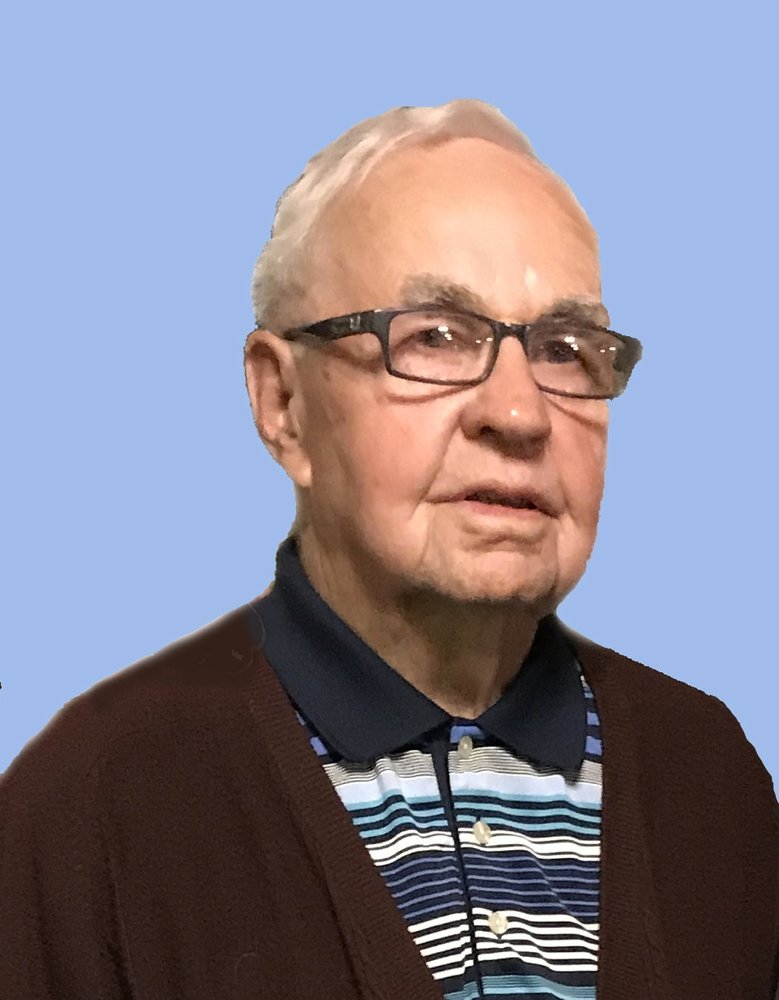 Obituary of Ervine Buckley
Buckley, Ervine Joseph
The very peaceful passing of our father, Ervine (Erv) Joseph Buckley occurred on Monday, July 19, 2021, at the Saint John Regional Hospital. He was predeceased by his beloved wife Bert (Alberta Butler) in January 2010.
Erv graduated from St. Vincent's Boys High School in 1946 and immediately began his career with the Canadian Imperial Bank of Commerce (CIBC) where he advanced to the position of manager and was employed until his retirement after 46 years at the age of 61.
Erv was much more than the breadwinner. He was a man ahead of his time. When we were young, he made school lunches, drove us to games, piano lessons and friend's houses. He could be found in the kitchen as often you would find our mother there... preparing meals, doing laundry, baking and even ironing. He was often heard saying that there was nothing more relaxing and digestive than standing with your hands in hot water doing the dishes after a family meal.
He was the ultimate caretaker and caregiver. This was never more evidenced than when we watched him look after our mother in her final years.
He and our mother, Bert, were well known for their warm and generous hospitality. Whether you needed a meal, a drink, a bed for the night or even a haircut, it could always be found at our house.
Since Bert passed, Erv continued as host, cook, baker, cleaner, chauffeur, teacher, leader, friend, and most important the best father, grandfather, and great grandfather ever.
Erv was a devote Catholic, and active member of his church. In retirement, he returned to Saint Rose Parish in Saint John.
He curled many years ago, until he realized the rinks were cold. He was a member of the Welsford and Amherst golf clubs. He loved to play duplicate bridge and kitchen bridge and was a self-proclaimed master. He walked and napped every day and lived to a healthy 92 years of age.
He made many cliches sound as though he originated them: "one day at a time," "every dog has his day," "it's not the hours you put in that count, but what you put in the hours" are but a few of his frequent observations.
Dad was the youngest child of Irvine and Susannah (Purtill) Buckley and the last surviving member of his immediate family. In addition to Bert his loving wife of 54 years, he was predeceased by his siblings and their spouses Geraldine McMackin (Lawrence), Vincent Buckley (Bernice), Raymond Buckley (Doreen), Marion Sweetman (Art), Roberta Butler (Paul), Marjorie Mackin (Bill), Joan McQuoid (Bill), and Victor Buckley; his infant son David James; his Butler relatives and their spouses Ray Butler (Shirley), Art Butler, Jim Butler, Adrian Butler (Judy), Gerry Butler, and Mary Butler.
Erv is survived by his children Paul Buckley (Susan), Jane Buckley, Lynn Buckley (John), Brian Buckley (Heather), Michael Buckley, Christine Pipes (Eddy); his grandchildren Jason Buckley, Andrew Buckley, Matthew Buckley (Amy), Paula Buckley (Tom), Stephen Buckley (Mary Emma), Max Page, Tess Page, Austin Page, Elliot Buckley (Erin), and Logan Pipes; his great-grandchildren Jayden, Luke and Lilah; his Butler relatives Sister Pauline Butler, Peter Butler, Joe Butler (Sandra), Michael Butler, Dawn Butler, and Nancy Butler; as well as his many nieces and nephews from the Buckley and Butler families.
Visitation will be held at Brenan's Funeral Home, 111 Paradise Row, Saint John, NB on Friday, July 23, 2:00 pm - 4:00 pm and 6:00 pm- 8:00 pm. A Mass of Christian Burial will be held on Saturday, July 24 at 10:00 am at the Cathedral of Immaculate Conception, 91 Waterloo Street, Saint John. Interment will follow at Saint Joseph's Cemetery.
This event is subject to the NB COVID health and safety restrictions. Those wishing to attend the Funeral Mass must pre-register by noon on Friday, July 23. This may be done by email: cic@nb.aibn.com, or by tel: 506-653-6820. To maximize capacity, we encourage you to register in your family or social bubble, by providing all names and total numbers of your family or group when registering.
Donations in memory of Ervine and Alberta Buckley may be made to the Heart and Stroke Foundation or the Oromocto Food Bank.
Share Your Memory of
Ervine