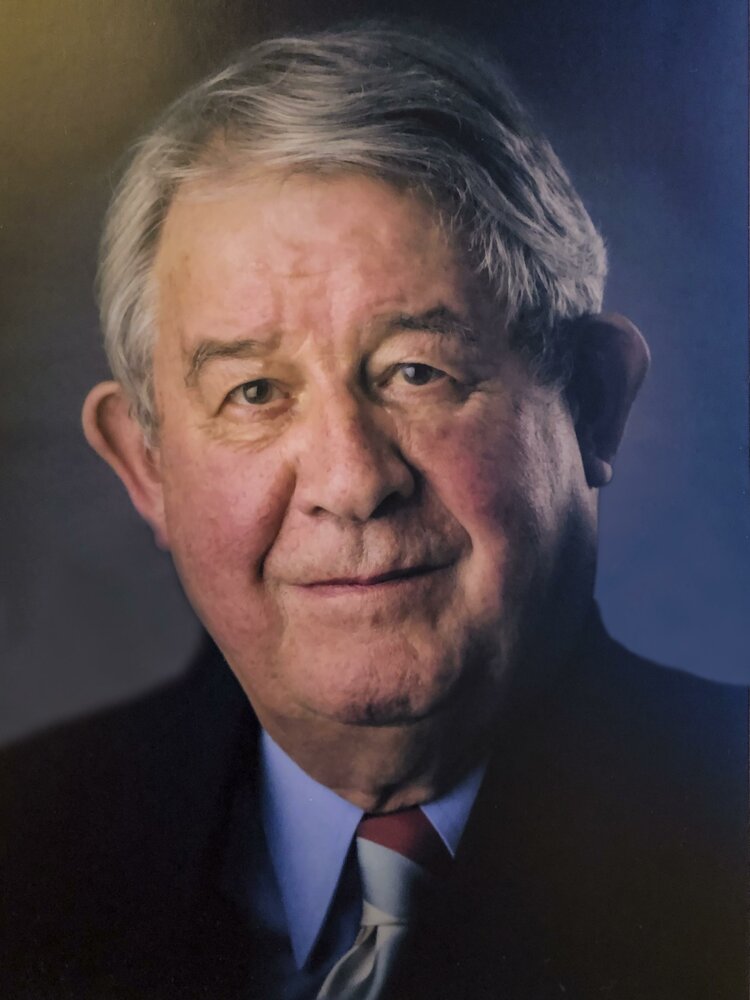 Obituary of A. Roger McKenzie
Roger McKenzie was born in Repton, Derbyshire, England on February 17, 1931, the eldest son of Arthur and Mary McKenzie.
Roger is survived by his wife of sixty years, Esmée, and their children: Jennifer [David], Jacqueline [Graham] and Philip [Lyse] McKenzie; and by his grandchildren: Russell, Robin and Warren Todd, Amanda Bentley [Tim], Matthew and Gillian Allan and Sarah McKenzie; and his great-granddaughters, Anna and Lucy Gesner. He is also survived by his siblings: Andrew (Stratford, Ontario), Nigel (London, England) and Katharine (Somerset, England).
Roger attended Repton School followed by a compulsory 18 months service as an officer in the Royal Engineering Corps before attending Trinity College-Cambridge University to study engineering. He was a member of the Trinity College Choir and loved to sing and listen to classical music.
While at Cambridge, Roger joined the university Air Squadron and learned to fly. He flew formation, instructed at the gliding school, and became passionate about aeroplanes, going on to logging over 1000 hours of flight time.
After graduating in 1954, Roger joined English Electric as an apprentice engineer working on turbines. In all his spare time he flew with the Royal Auxiliary Airforce.
In 1958, Roger emigrated to Toronto, Canada where he met Esmée on a ski trip and they married in 1961. Roger was employed by Ontario Hydro as one of the first members of their fledgling nuclear power team. He worked on the design and commissioning of the Nuclear Demonstration Plant in Rolphton on the Ottawa River and then on the design and commissioning of Canada's first full-scale nuclear power station at Douglas Point on Lake Huron.
In 1967, Roger joined Shawinigan Engineering in Montreal to work on the design of KANUPP, the nuclear power station that Canada was building in Pakistan. In 1969 he moved his young family to Karachi where he was the manager in charge of commissioning and start-up of KANUPP. In 1973, Roger rejoined Ontario Hydro and spent two years in Lagos, Nigeria as a team member, updating the National Electric Power grid.
In 1975, while still in Nigeria, Roger was recruited by New Brunswick Power to head up the design and commissioning of Point Lepreau Nuclear Power Station, where he served as plant manager for many years. He enjoyed his time at Point Lepreau and maintained friendships with many of his colleagues throughout the years.
Roger finished his career at NB Power as Vice President of Engineering and Construction in 1993 and continued to work as a consultant in the energy field. He sat on the New Brunswick Energy Control Board for many years and was twice elected to the board of the Crane Mountain Clean Landfill. He was a longstanding member of the Lancaster Golden Service Club.
Roger will be remembered as a loving husband and devoted father, grandfather and great-grandfather. He loved spending time with his family whenever possible. He loved to sail his boat, especially on the Saint John River, listen to classical music, play duplicate bridge, ski, canoe and hike with family and friends. He will be dearly missed.
Arrangements are under the care of Brenan's Funeral Home, 111 Paradise Row, Saint John, NB (506-634-7424). Roger's life celebration will be at a later date when COVID restrictions have been eased. For those who wish, remembrances and condolences can be placed online at www.BrenansFH.com.
Share Your Memory of
A. Roger