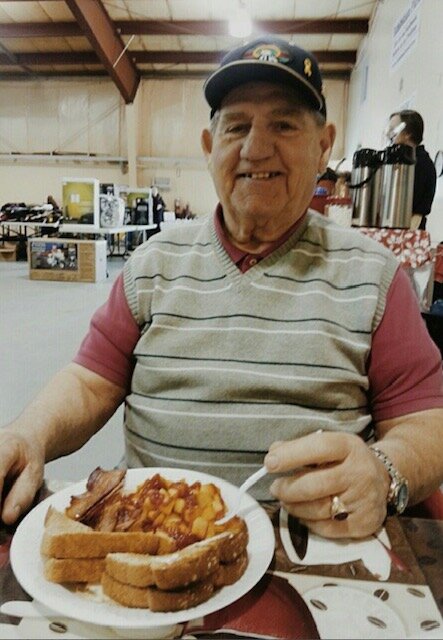 Obituary of Bob Fall
It is with heavy hearts that we announce the passing of Charles Lloyd (Bob) Fall which occurred at Rocmaura Nursing Home on February 1st, 2022, at the age of 85.
He was born and raised in Charlottetown, Prince Edward Island before making his home New Brunswick.
Bob was a hard worker, not only professionally in his long career at the shipyard but also in his hobbies. Bob was an avid woodworker and could often be found in his beloved shop making things for his home and family. He was a self-taught and meticulous craftsman, this showed in all his projects big and small. Bob beamed with pride at each piece from nightstands to hutches, but his greatest builds were those he called home. Bob and his wife built their family home in Red Head with what he described as the best view in the city as he was able to watch the ships come and go. They later built their family camp in Grand Lake where they made many more loving memories with family and friends alike. Bob could often be found with Arlene puttering around the yard of these homes where the gardens were always in bloom and the birds were all well fed. Bob would always tell his granddaughters to "Be a part of the solution girls, not the problem" and this was truly something he lived by, there was nothing he couldn't fix. He was an avid photographer of all the things he loved and for that his family will be forever grateful.
Bob was a serious bargain hunter; you could find him for decades every Sunday at Rhoda's Flea Market. He loved searching for beautiful pieces of unique glass, war related items, tools, and anything someone may have mentioned they needed; he knew he could find it there! Bob was very social and enjoyed the friendships made while visiting the lotto booth and picking up his Tim Hortons coffee at McAllister place, this became a part of his daily routine in his later years and his great-grandchildren loved to search for grampy there as they knew it meant they would all be treated to an ice cream together. He was always ready to laugh and be your partner in silliness and mischief. He will be missed dearly.
Predeceased by his siblings Billy, Shine, John, Francis, Jackie, Gertrude (Whoopsie), Mary & Joan.
Bob is survived by his cherished wife Arlene Fall (Rideout); children Donny Fall and Diana Fall; grandchildren Julianna Martin (Matthew Lewis) and Amanda Morrell (Kevin Dunwoody); great grandchildren Cooper Morrell and Wyatt Morrell, several nieces and nephews and many other loved families on the island.
Arrangements are under the care of Brenan's Funeral Home, 111 Paradise Row, Saint John (634-7424). In keeping with Bob's wishes, there will be no visitation or funeral service at this time. For those who wish, donations in Bob's memory may be made to the Saint John SPCA. Online remembrances and condolences can be placed online at www.BrenansFH.com.