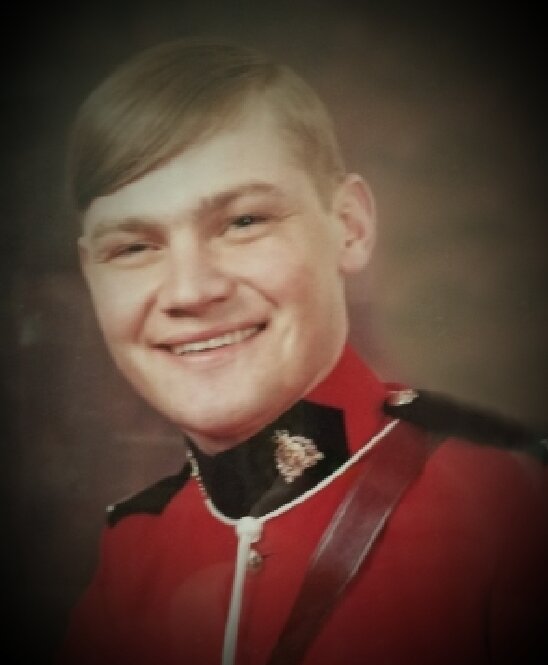 Obituary of Gregory Pollock Wagar
With profound sadness, Greg's life partner, Catherine, announces the passing of her beloved companion and partner at Saint John Regional Hospital on Friday, August 12, 2022, after a period of declining health.
He was born in Kingston, Ontario on October 9, 1955, the first-born son of the late Gerald and Violet (Pollock) Wagar.
A bit of a Renaissance man, Greg's passion for music, acting, and art contributed to his successes as a proud member of the Royal Canadian Mounted Police. He was seldom seen without the insignia of the Force on his ever-present hat.
As a typical child of the time, Greg was sent at an early age to the neighbourhood piano teacher, but quickly outstripped her abilities and moved on to the Ontario Conservatory curriculum, eventually completing Grade Twelve levels in both performance and Theory in trumpet. At age 10, Greg picked up a trumpet beginning a life-long love affair with the horn and a passion for Big Band music. He bought his first horn with money he earned from two paper routes.
By the time he started at Ernestown High School, he was already involved in organized drum corps marching band and several local youth orchestras. High school drama performances next piqued his interest, and he immersed himself in stagecraft and performances while still dedicated to his music. After winning Best Actor awards in several Ontario drama festivals, he was invited to intern at the Stratford Shakespeare Festival for a summer. His teachers both music and drama submitted his name and audition tapes to The Julliard School of The Arts in New York. He was accepted for both Drama and Music, but financial constraints led to a search for a career option that would allow Greg to use and enjoy his artistic skills to best advantage.
The RCMP bands and the distinctive uniform were major attractions that resulted in a cross-country drive from Ottawa to Regina, Saskatchewan and the RCMP 'Academy' at Depot Detachment. Greg had many stories to tell about the intensive training all new members undergo. A favourite was how he came to be wearing the RED SERGE long before the other members of Troop 22 '74-'75. It just so happened that Band at Depot was short a trumpet player and, of course he needed to be properly attired. Within two weeks he was kitted out in the iconic uniform, much to the chagrin of the Drill Corporal.
After the intensity of Depot, Greg was sent to uniformed postings in Manitoba before going 'plain clothes' in Thunder Bay, working in drug investigations. After taking several advanced courses, including a stint at the FBI school at Quantico, Virginia, he put his acting skills to good use in undercover operations with NCIS, the National Criminal Investigation Service. Though he had little difficulty changing in roles himself in his work, years of immersing himself in characters 24/7 took a psychological toll and he left the Force to pursue other options.
Greg managed to graduate from Queen's University with an Economics Major after almost 15 years of correspondence and part-time courses. Electives in Fine Arts gave him a taste for creating paintings as a cathartic outlet and abstract impressionism, and he later developed a bit of a following painting as Greg Pollock.
He moved to Toronto and established himself in the acting community. As Gregory Pollock he enjoyed several years of relative success acting in commercials, as well as television and film productions. When he was called back to Kingston to help care for elderly relatives, Greg even managed to commute for some time to still audition.
In early 2016, Greg met his Catherine with whom he enjoyed more than six years of love and happiness. The couple moved to Saint John to be close to Catherine's children and grandchildren. These youngest were a source of amusement and joy for Greg and he was so proud of their achievements.
On his arrival in Saint John, Greg was thrilled to be able to join the St. Mary's Band. He enjoyed the music and camaraderie of the band for a couple of years before Covid19 made rehearsals and performances impossible. Greg hoped his numerous instruments would find new homes with aspiring musicians.
In addition to his life partner, Catherine (Meurling) Farrell, Greg is survived by his sister, Pamela Sinclair (Tom), his younger brother, Bruce (Laurie) Wagar, and several nieces.
Arrangements are under the care of Brenan's Funeral Home, 111 Paradise Row, Saint John (634-7424). There will be no funeral at this time.
Share Your Memory of
Gregory