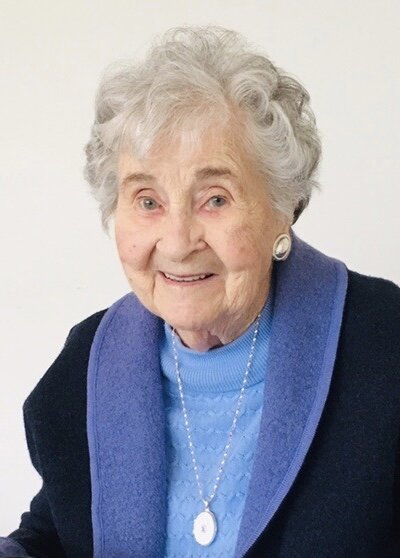 Obituary of Elsie Wellington Fudge
It is with deep sadness that the family of Elsie Wellington Fudge announces her passing on Monday, August 15, 2022 with her family by her side. Elsie was born on July 11, 1919 in Saint John and was the daughter of Willis and Pearl (nee Henry) McIntyre.
Elsie attended Saint John High School where she played basketball, graduating in 1936. She went on to graduate from Modern Business College and worked as a secretary at Bradley's Jewellery and then at Wartime Prices and Trade Board.
She met our dad, Ralph Fudge, in the summer of '36 on a beach in Ketepec and they were married in 1943. They went on to have three children: Jan Robinson of Halifax, Eric (Delaney) of Ottawa and Carol Owens (Bob) of Rothesay. They brought up their family in the Rothesay area and were very happily married for seventy-one years.
Elsie was a devoted stay-at-home mum who opened her home to all our friends and family and many came to sit around our kitchen table to tell stories and have a great laugh. No one ever left hungry and she was known for her delicious gingerbread and pies. She was kind and compassionate and very wise. She, unknowingly, touched many lives throughout her life.
Elsie had many interests, one of them being her beautiful handwork. She always had a project on the go. There will be afghans, knitted socks and pine needle woven baskets in all our homes forever. Elsie also loved gardening, a hobby she inherited from her own mother and passed on to her children and most of her grandchildren. She so loved her backyard full of blooms. When mum was young, she was a beautiful speed skater and had many happy memories of Lily Lake. She also enjoyed a great game of bridge, 45's and a good book.
Elsie and Ralph had many wonderful friends throughout their married life, of whom their family have very fond memories. They travelled a lot, with Cape Cod being their favourite family vacation spot every summer; a ritual that continues down through the generations. After Ralph's retirement, they enjoyed twenty-two winters in Florida, hosting friends and family each year.
Mum's greatest pleasure, by far, was her family. She greeted every baby with open arms and was sincerely interested in all they were doing as they grew up. She was a much loved 'Mum' and 'Grammy'.
When Ralph passed away at 95, Elsie moved to Jubilee Hall at Parkland in the Valley and spent eight happy years there making new friends and winning too many times at bingo. You could say she was a bit competitive. In all, mum had a full and happy life.
In addition to her three children, Elsie is survived by eight grandchildren: Sheri Robinson, Jennifer Kelly, Michael Singh (Lory), Kristopher Fudge (Kate), Nathan Fudge (Sophie), Jeffrey Owens (Holly), Jonathan Owens (Maja) and Natalie Owens (Ron). She is also survived by nineteen great-grandchildren and four great-great-grandchildren. Besides her parents, Elsie was pre-deceased by her husband, Ralph; brothers: Don (Beth) MacIntyre and Bim (Millie) McIntyre and sister, Phylis (Jock) Bowen and her nephews: Malcolm McIntyre and Jamie MacIntyre.
The family would like to extend our gratitude to Dr. Chris Small, the medical staff of the Palliative Care Unit, staff of Jubilee and Concord Halls of Parkland in the Valley and special caregiver, Nancy Marsh.
A small family gathering to celebrate mum's life will be held Saturday. Donations in memory of Elsie may be made to Romero House or the Salvation Army.
Online condolences may be submitted to www.BrenansFH.com.
Share Your Memory of
Elsie