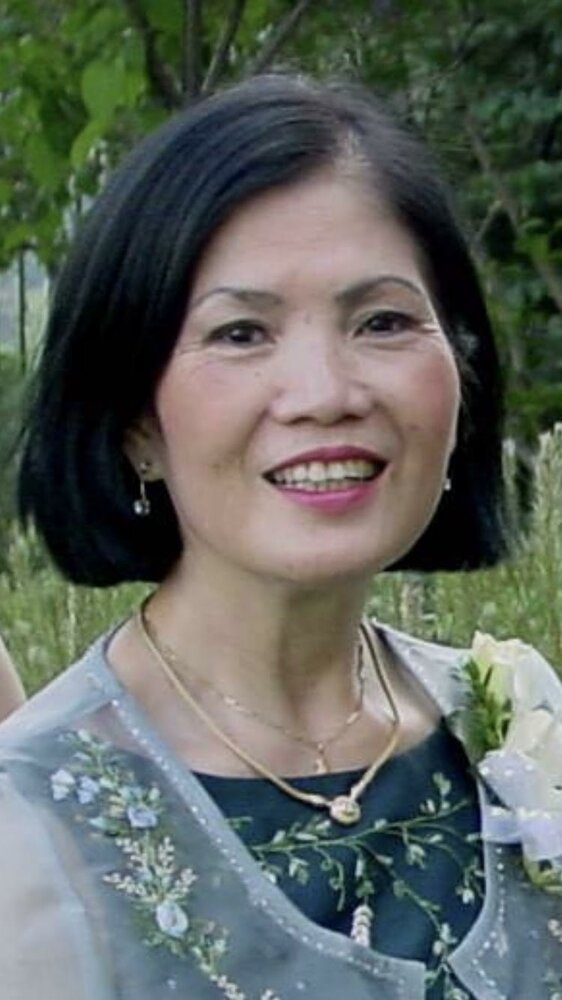 Obituary of Mai Phuong Tran
It is with deep sadness that we share the news of the passing of our beloved mother, Mai Phuong Tran, on September 14, 2022. She died in peace and comfort at the Saint John Regional Hospital Palliative Care Unit.
Mai was born in Hanoi, Vietnam and emigrated with her husband, Ha Tran, 1-yr. old son, and one on the way, first to the United States, where she would have two more children, and then to Canada. After having one more child, both Mai and Ha decided to settle down in Rothesay, New Brunswick. Mai overcame many challenges in order to successfully raise her young family, not the least of which was to leave behind all of her family and immerse herself into a totally different culture and climate, and learn a difficult new language all on her own. While her husband was a graduate student in the US, to help balance the budget, Mai learned to sew. This became her passion and she is renown for her dressmaking. She could make anything from shirts, to pants, to jackets and coats, to suits, and, of course, dresses - prom dresses, wedding dresses, evening gowns in which you could walk the red carpet. Not only did she sew for her children, but also her sisters, mother, nieces and nephews, friends, and eventually grandchildren. Coming to America, Mai had to develop new ways and recipes to cook Vietnamese cuisine with North American ingredients. Again, she excelled in her cooking and everyone looked forward to her Vietnamese spring rolls, called cha giò, and if you were lucky, her Vietnamese beef noodle soup called pho. Mai was an amazing handicrafts person who loved to knit, crochet, and embroider, as well as an avid gardener. She was a gentle, kind, patient, loving and generous person, who was wholly devoted to her family. She will be greatly missed.
Mai was predeceased by Ha in 2017, as well as her parents (Huyen and Nguyen), an older sister (Van), and a younger brother (Au). She is survived by her children: John of Halifax, NS, Simone (Donald Clancy) of Fredericton, NB, Robert and Lisa (Pieter Van Schaick) of Rothesay, NB, and David (Sue Bernadas) of Edmonton, AB, and five grandchildren: Emily and Matthew Clancy, Schuyler and Cara Van Schaick, and Claire Tran. Mai is also survived by several siblings, nieces and nephews, brothers- and sisters-in-law, and cousins.
Enormous thanks and gratitude to the staff at the Saint John Regional Hospital Palliative Care Unit, who cared for Mai in her final days, and to the KV Extra Mural staff, who looked after Mai for four years while at home.
Mai is resting at Brenan's Funeral Home, 111 Paradise Row, Saint John, NB, (506) 634-7424. A private family ceremony was held Monday, September 19, to be followed by a visitation on October 2, 2022 from 3-5pm at Brenan's Funeral Home. Remembrances can be made to the Alzheimer's Society of Canada and/or to the charity of the donor's choice. Please place online condolences and remembrances at www.BrenansFH.com.