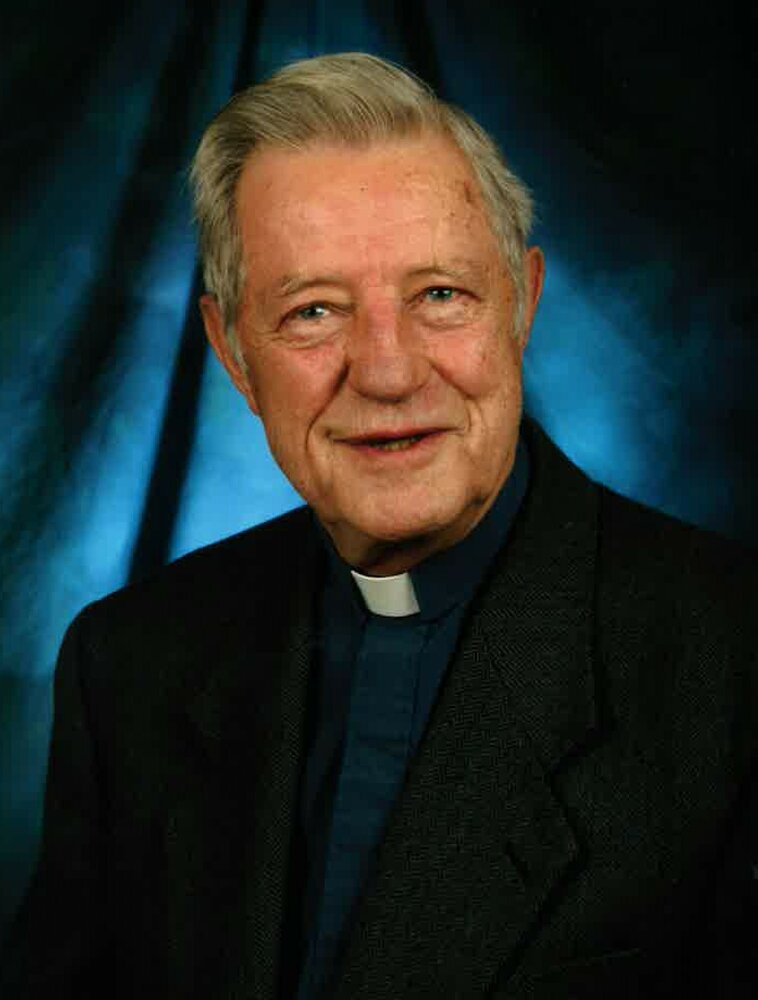 Visitation
2:00 pm - 4:00 pm
Wednesday, January 11, 2023
Cathedral Rectory
91 Waterloo Street
Saint John, New Brunswick, Canada
Mass of Christian Burial
10:00 am
Thursday, January 12, 2023
Cathedral of the Immaculate Conception
91 Waterloo Street
Saint John, New Brunswick, Canada
(506) 653-6820
Interment
St. Joseph's Cemetery
327 Westmorland Road
Saint John, New Brunswick, Canada
Obituary of Rev. Dr. P. Brian Hansen
The death of Rev. Dr. Paul Brian Hansen, the most senior priest of the Diocese of Saint John, occurred at his residence, Rocmaura Nursing Home, on Monday, January 9, 2023, at the age of 91. Father Brian was born in Saint John on December 7, 1931, a son of the late E. Ray Hansen and Theresa Maxwell.
Father Brian grew up in the North End of Saint John, an active and involved parishioner of St. Peter's Parish. After graduating from St. Vincent's Boys High School, he earned a Bachelor of Science degree from St. Francis Xavier University, Antigonish, NS. He then undertook Philosophical Studies at the Seminaire de Philosophie in Montreal, QC, and Theological Studies at Holy Heart Seminary in Halifax. He was ordained to the priesthood for the Diocese of Saint John in St. Peter's Church, along with Father George Riley and Father Edward Boyce, C.Ss.R., on June 15, 1957, by the Most Reverend Alfred B. Leverman, Bishop of Saint John. After ordination he served briefly at the Cathedral of the Immaculate Conception, followed by three years as Associate Pastor of St. Stephen's Parish, Milltown. In 1960 he was appointed Associate Pastor of St. Dunstan's Parish, Fredericton, where he served until being sent to Rome where he earned a Doctorate in Canon Law from the Pontifical University of Saint Thomas Aquinas (The Angelicum). His experiences in Rome during the Second Vatican Council shared with his lifelong friend, Father Jack Dolan, would shape his life and ministry for the rest of his years.
After returning to the Diocese, Father Brian was appointed Vice-Chancellor for two years, followed by Chancellor for seven years. During these years he also assisted at the Cathedral of the Immaculate Conception and served as chaplain to St. Joseph's Hospital. In 1974 Father Brian was appointed pastor of St. Joachim's Parish, Saint John, where he served until 1989. During these years he oversaw the building of the new church after the tragic loss of the old church in a fire. He also worked hard to implement the vision of the Church shaped during the Second Vatican Council in St. Joachim's as well as in the other parishes where he served. In 1989 Father Brian was appointed pastor of St. Mark's Parish, Quispamsis, where he served until 2000. His final parish assignment was as pastor of St. Augustine's Parish and St. Matthew's Parish, Grand Bay-Westfield from where he retired in 2011.
In addition to serving the Diocese of Saint John as Vice-Chancellor and Chancellor, Father Brian also served as Diocesan Archivist, Officialis of the Tribunal, the first Judicial Vicar of the Diocese, Diocesan Finance Officer, Diocesan Master of Ceremonies, Chaplain to St. Joseph's Hospital, Spiritual Advisor to the Catholic Women's League, Chaplain to the Knights of Columbus, Chaplain to the Legion of Mary, and as chair and member of the Council of Priests, the College of Consultors, the Priests' Personnel Committee, and the Priests' Pension Committee, as well as many other diocesan committees over the years. He was privileged to work alongside the Sisters of Charity in both hospital and parish assignments over the years. He was also a member and onetime vice chair of the Canadian Canon Law Society and a member of the National Federation of Councils of Priests. He was also involved for many years in the local ecumenical and interfaith movement.
Father Brian had a lifelong love for music and played violin for many years with the Saint John Symphony Orchestra. He was also actively involved in sports and athletics, especially in his youth. He had a deep love of nature and shared his cottage on Maces Bay with family and friends over the decades. Frequently accompanying him over the years was one or another of his three dogs. He enjoyed playing bridge and cheering on the Sea Dogs.
Father Brian was a true gentleman who loved the priesthood, loved the Church, loved his family, friends, co-workers, and parishioners, and always used his intellectual and personal gifts for the service and benefit of others. He will be deeply missed.
Father Brian is survived by his brother David (the late Doreen) of Sussex, his sister Mary (Paschal) Chisholm of Saint John, his sister-in-law Diane Langmann, of Vancouver, BC, as well as numerous nieces and nephews and their families. In addition to his parents, he was predeceased by his brothers Dr. Alden (the late Frances) of Calgary, AB, and Dr. Donald (the late Maureen) of Lewiston, NY.
Father Brian's family would like to express their heartfelt appreciation and thanks to the staff of Rocmaura Nursing Home and Chateau de Champlain. The kindness and exceptional care shown towards him and our family will never be forgotten.
Visitation will be held at the Cathedral Rectory, 91 Waterloo Street, on Wednesday afternoon, January 11, from 2:00 to 4:00 pm. Father's body will be translated to the Cathedral of the Immaculate Conception for Solemn Vespers on Wednesday evening at 7:00 pm. His Funeral Mass will be celebrated by the Most Reverend Christian Riesbeck, C.C., Bishop of Saint John, in the Cathedral of the Immaculate Conception on Thursday, January 12, at 10:00 am. The wearing of a mask is strongly encouraged. For those unable to attend, the Mass will be livestreamed and can be viewed by visiting Father Brian's obituary on the Brenan's website. Interment will follow in the Priests Plot of St. Joseph's Cemetery.
In lieu of flowers, remembrances may be made to the Rocmaura Foundation, St. Joseph's Hospital Foundation or to a charity of one's choice.
Share Your Memory of
Rev. Dr. P. Brian