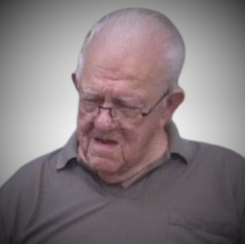 Obituary of Ted Henderson
Ted Henderson (Tedford, Eldred, Teddy) son of Cecil and Lucy (Malloch) Henderson, born October 13th, 1936, on Campobello Island, passed away April 10th, 2023 at the Saint John Regional Hospital.
Ted's family moved to Fairhaven, Deer Island in 1939. He spent his childhood and youth on the island. He graduated from Deer Island Regional High School, where he was honoured as the Valedictorian of his graduating class. After high school, he joined the working service of Scotiabank. He worked in several banks around the region, including Fredericton, St. George, Grand Manan and McAdam, followed by a transfer to Nassau, Bahamas. Coming back to Canada and working in many branches around Ontario, he eventually found his way back to New Brunswick where he worked as an accountant for 31 years for Saint John Ship Building Ltd., retiring in 1996.
Ted was predeceased by his father and mother; his siblings, Raymah Leslie, Albion Henderson, Eugene Henderson, Faye Lambert and Paul Henderson. Survived by sisters, Beryl Pike and Dorothy Pendleton and brother, Milford Henderson.
Ted would like to express his sincere appreciation to his niece Karen Fox and her family for their devoted attention to his care and needs in his final years. He would like to acknowledge a deep and abiding friendship to Mrs. Leona Randall and her nephew Gary DeLorey of Ripples, NB.
A service of committal will be held at a later time on Calder's Head, Deer Island, NB.
In lieu of flowers, donations can be made to a charity of the donor's choice.