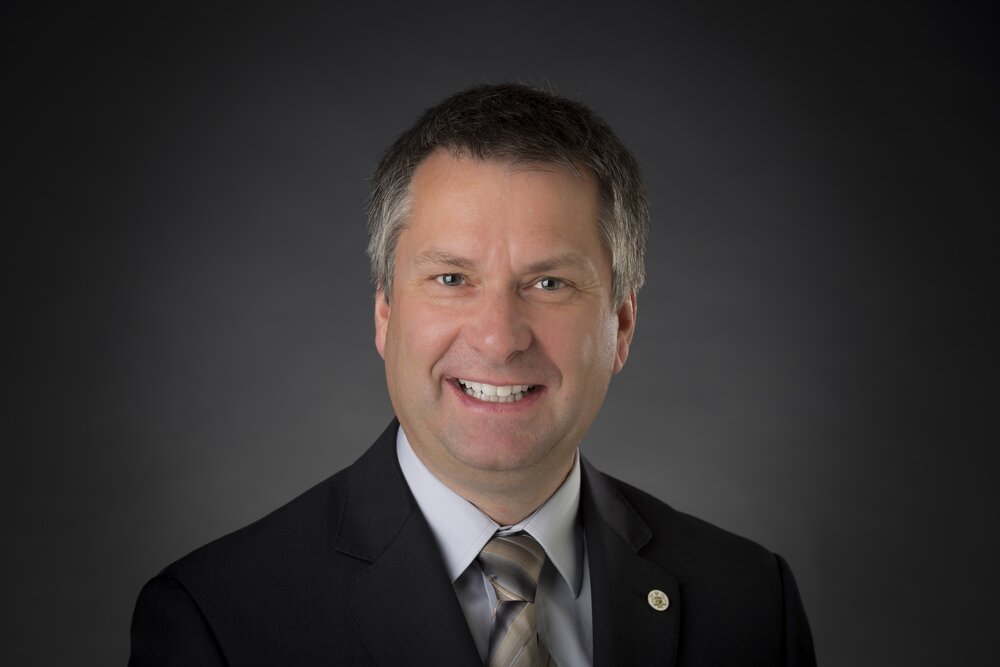 Mass of Christian Burial
1:00 pm
Thursday, May 11, 2023
Saint Francois De Sales
77 Ragged Point Road
Saint John, New Brunswick, Canada

Get Directions
Obituary of François Michel Beaulieu
It is with great sadness that we announce the sudden passing of François M. Beaulieu on Saturday, May 6, 2023 at the age of 56. François leaves behind his beloved wife and life partner of 33 years, Manon Pelletier, his mother Annette Beaulieu of Edmundston, his father Adjutor Beaulieu of Edmundston and his brother André Beaulieu (Susan) of Rothesay.
Also saddened by his loss are François' parents-in-law, Lucien and Lily Pelletier, brothers-in-law, Roger (Anne) and Richard (Bonnie), and nieces and nephews: Kristine (Adam), Arlo Beau, Dominic (Danielle), Karine (Justin), Noah, Kevin, Samantha (Patrick) and Sarah.
François grew up in Edmundston where he graduated from Polyvalente A.M. Sormany. After completing his bachelors of Business Administration (B.A.A.) from l'Université de Moncton in 1988, he worked for the family business A.A. Beaulieu Limited for 6 years before returning to Moncton with Manon to complete his Bachelor of Laws (LL.B.) at l'Université de Moncton in 1997. Francois was called to the NB Bar in June of 1998, and started his law practice at the firm of Clark Drummie. During his time at Clark Drummie, François completed a Master of Laws (LL.M.) in Alternative Dispute Resolution at Osgoode Hall Law School in 2006. Through this Master's Degree, François discovered a new purpose, a deeply rooted passion and a different outlook on the practice of law, which he set out to share with others. Drawing from that passion and his innate comprehensive professional skills, François developed a negotiation course in both official languages which quickly became part of the LL.B offering at the UNB and Université de Moncton Law Schools. He then spent 18 years (until his passing) teaching the art of negotiation and sharing his passion for conflict resolution with NB law students.
In 2007, François moved to the public sector when he joined the City of Saint John as Solicitor. He left the City to join the New Brunswick Energy and Utilities Board (NBEUB) as Vice Chair in 2014. François became Acting Chairperson upon the retirement of former Chair, Ray Gorman, and was formally appointed Chairperson and CEO in 2022. As Chair, François was responsible for ensuring the ethical duty of the Board. During his tenure as Chair, he demonstrated outstanding leadership, and offered an understanding and passion for his work that transformed the Board. François' determination resonated in every undertaking, both personally and professionally. A mentor and teacher at heart, with the innate ability to analyze, François prioritized fairness in every decision. He will be greatly missed by many across North-America for his facilitation and leadership involvement on many boards such as the Canadian Association of Members of Public Utility Tribunals (CAMPUT), Horizon Health Network Board of Directors, ARC-f, and others.
François loved being active and being outdoors. He was an avid cyclist and skier. He enjoyed many ski and hunting trips with his brother, father and nephew, Dominic. Boating up the Saint John River with Manon and friends was his favorite way to relax in nature.
François leaves behind a better NB because of his many contributions, which include his work and thoughtful decisions on the NBEUB, his positive impact on the practice of law in NB through his training of young lawyers in negotiation and conflict resolution and the many lives he enriched through his genuine kindness, his integrity and his empathy. François had a wonderful way to make everyone he encountered feel comfortable and valued. With his big warm smile, he was always generous with his time, energy and support. He was a Prince of a man, who lived life well and saw opportunities rather than obstacles.
A Funeral Mass will be held Saint François de Sales Roman Catholic Church, 77 Ragged Point Road, Saint John, on Thursday, May 11th, 2023 at 1pm. For those unable to attend in person, the Mass will be livestreamed via the Funeral Home website. Arrangements under the care and direction of Brenan's Funeral Home (506)-634-7424.
Immediately following the Mass, the family invites those in attendance to join them at the Royal Kennebecasis Yacht Club, 1042 Millidge Avenue, Saint John, where a Celebration of Life in honour of François will be held.
Donations in François' memory may be made to the Heart and Stroke Foundation or Edmundston Regional Hospital Foundation. Online condolences and memories may be shared at www.BrenansFH.com.
C'est avec une grande tristesse que nous annonçons le décès soudain de François M. Beaulieu le samedi 6 mai 2023 à l'âge de 56 ans. François laisse dans le deuil son épouse et partenaire de vie de 33 ans, Manon Pelletier, sa mère Annette Beaulieu d'Edmundston, son père Adjutor Beaulieu d'Edmundston et son frère André Beaulieu (Susan) de Rothesay.
Également attristés sont les beaux-parents de François, Lucien et Lily Pelletier, les beaux-frères-parents, Roger (Anne) et Richard (Bonnie), ainsi que les nièces et neveux : Kristine (Adam), Arlo Beau, Dominic (Danielle), Karine (Justin), Noah, Kevin, Samantha (Patrick) et Sarah.
François a grandi à Edmundston où il a obtenu son diplôme de la Polyvalente A.M. Sormany. Après avoir obtenu son baccalauréat en administration des affaires (B.A.A.) de l'Université de Moncton en 1988, il a travaillé pour l'entreprise familiale A.A. Beaulieu Limited pendant 6 ans avant de retourner à Moncton avec Manon pour terminer son baccalauréat en droit (LL.B.) à l'Université de Moncton en 1997. François a été appelé au barreau du Nouveau-Brunswick en juin 1998 et a commencé sa pratique du droit au cabinet Clark Drummie. Pendant son séjour chez Clark Drummie, François a obtenu une maîtrise en droit (LL.M.) en règlement extrajudiciaire des litiges à la faculté de droit Osgoode Hall en 2006. Grâce à cette maîtrise, François a découvert un nouvel objectif, une passion profondément enracinée et une vision différente de la pratique du droit, qu'il a entrepris de partager avec d'autres. S'inspirant de cette passion et de ses compétences professionnelles globales innées, François a développé un cours de négociation dans les deux langues officielles qui a rapidement fait partie de l'offre de LL.B à la faculté de droit de l'UNB et de l'Université de Moncton. Il a ensuite passé 18 ans (jusqu'à son décès) à enseigner l'art de la négociation et à partager sa passion pour la résolution de conflits avec des étudiants en droit du Nouveau-Brunswick.
En 2007, François est passé au secteur public lorsqu'il a rejoint la Ville de Saint-Jean en tant que solliciteur. Il a quitté la ville pour se joindre à la Commission de l'energie et des services publics du Nouveau-Brunswick (CESPNB) en tant que vice-président en 2014. François est devenu président par intérim à la retraite de l'ancien président, Ray Gorman, et a été officiellement nommé président et chef de la direction en 2022. En tant que président, François était chargé d'assurer le devoir éthique de la commission. Pendant son mandat de président, il a fait preuve d'un leadership exceptionnel et a offert une compréhension et une passion pour son travail qui a transformé la commission. La détermination de François a résonné dans chaque entreprise, tant sur le plan personnel que professionnel. Mentor et enseignant de cœur, avec la capacité innée d'analyser, François a donné la priorité à l'équité dans chaque décision. Il sera manqué à travers l'Amérique du Nord pour sa facilitation et sa participation au leadership à de nombreux conseils d'administration tels que l'Association canadienne des membres des tribunaux d'utilité publique (CAMPUT), le conseil d'administration d'Horizon Health Network, l'ARC-f et d'autres.
François aimait être actif et être à l'extérieur. Il était un cycliste et un skieur passionné. Il a participé à de nombreux voyages de ski et de chasse avec son frère, son père et son neveu, Dominic. Faire du bateau sur la rivière Saint John avec Manon et ses amis était sa façon préférée de se détendre dans la nature.
François laisse derrière lui un meilleur NB en raison de ses nombreuses contributions, qui comprennent son travail et ses décisions réfléchies sur le CESPNB, son impact positif sur la pratique du droit au Nouveau-Brunswick grâce à sa formation de jeunes avocats en négociation et en résolution de conflits et les nombreuses vies qu'il a enrichies grâce à sa véritable gentillesse, son intégrité et son empathie. François avait une grande capacité de faire en sorte que tous ceux qu'il rencontrait se sentent à l'aise et valorisés. Avec son grand sourire chaleureux, il a toujours été généreux avec son temps, son énergie et son soutien. C'était un homme chaleureux, un prince, qui vivait bien la vie et voyait des opportunités plutôt que des obstacles.
Une messe funéraire aura lieu à l'église catholique romaine Saint-François de Sales, 77 Ragged Point Road, Saint John, le jeudi 11 mai 2023 à 13 heures. Pour ceux qui ne peuvent pas y assister en personne, la messe sera diffusée en direct sur le site Web du salon funéraire. Les arrangements sont sous la direction de Brenan's Funeral Home de Saint John (506) 634-7424.
Immédiatement après la messe, la famille invite les personnes présentes à les rejoindre au Royal Kennebecasis Yacht Club, 1042 Millidge Avenue, Saint John, où se tiendra une célébration de la vie en l'honneur de François.
Des dons à la mémoire de François peuvent être faits à la Fondation Coeur et AVC ou à la Fondation de l'hôpital d'Edmundston. Les condoléances peuvent être partagés en ligne sur www.BrenansFH.com.
Share Your Memory of
François