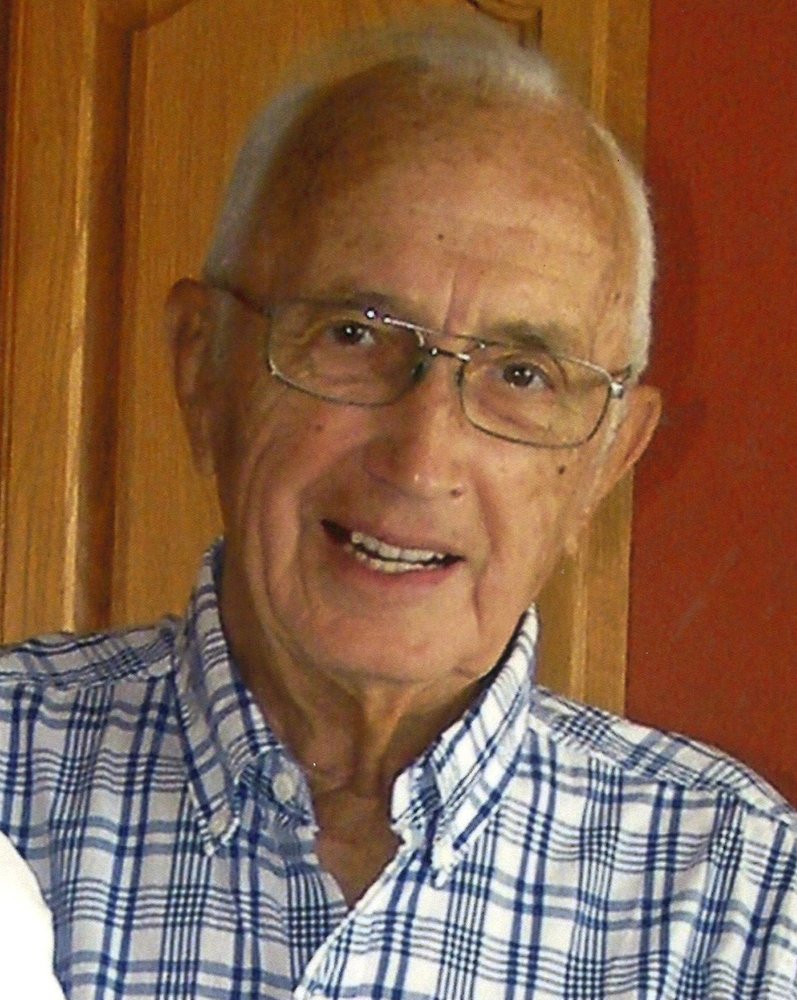 Interment
Cedar Hill Extension Cemetery
1650 Manawagonish Road
Saint John , New Brunswick, Canada

Get Directions
Obituary of Harry Purinton Gaunce
The family of Harry Purinton Gaunce is sorry to announce his passing at Bobby's Hospice, April 8, 2020. Born in Richmond Corner, NB, July 15, 1934, he was the son of Frederick Basil Gaunce and Clara (Purinton) Gaunce.
In 1943, Harry's family moved to Saint John. He spent most of his childhood living on Waterloo then Germain St. He graduated from Saint John High School in 1952, and then completed Grade 13 (senior matriculation) in 1953. He developed long-lasting friendships, public speaking and interpersonal skills with Jaycees (Canada's Junior Chamber of Commerce). Harry began his career with Royal Insurance, where he earned his Insurance Diploma from the University of Toronto. It is also at Royal Insurance where he met Glenna Henderson (the Fairville girl). Harry learned shortly thereafter he would be living on the west side, permanently.
Harry was a field underwriter, broker and business owner throughout his career, and a dedicated community volunteer with local, regional and national sports organizations. He was also heavily involved in business, political and charitable foundations. He was presented the YMCA's Red Triangle Award and the Rotarian's Paul Harris Fellowship recognizing his community involvement. Harry was a member of Germain Street United Baptist Church, then later, Lancaster Baptist Church.
Coaching and mentoring came naturally to Harry. While a senior at SJHS it was noted how he was the first to welcome and encourage younger students to both rugby and hockey. He introduced new players to veterans with easy effort and brought them into the fold. That's how he built a team.
Harry coached baseball and hockey throughout his life. His rich baritone cut through a crowded rink, but more often than not, it was a quick whistle that got his players' attention. Many players at various levels benefited from what Harry delivered as a mentor beyond the ice. They learned the value of a firm handshake, a warm introduction, and basic hard work. Harry also taught his players that it was most effective to be the only guy in the rink wearing a suit and tie. He enriched teams by enriching individuals.
Harry had a passion for the greater Saint John community. He taught many people how to be compassionate and effective as they worked to build a better region. One mentee commented, "It was an honour when Harry taught me how to plan and run a meeting, including the Power Chair, who should be in the room, and where they should sit. I loved his 'I got this one' look."
Harry also loved the people of Cambridge Narrows. The Gaunces were long time campers at Wally's on the Washademoak, which led to their year-round home, enjoyed by everyone who dropped by.
Harry joined the Carleton Community Garden, lower West Saint John, near its beginning and in his 80th year. His message from the start was "Volunteers for the unity in community." He encouraged his friends to grow with a purpose and to give a share of their produce to the Food Bank. His fellow gardeners' message is: "We were so very fortunate to have Harry as a member, a mentor and a friend. He had the ability to engage people of all ages in conversation, laughter and the joy of gardening."
Harry's accomplishments led to his truest joy, his eight grandchildren and four great-grandchildren. Whether they lived near or far, he was invested in their lives and followed their progress in person or by cell, email, text or FaceTime. Not only did Harry have time and love for his grandchildren, he also befriended their friends and families. Any one of his eight grandchildren could say, "15 years later, my Grampy would still ask me how my friends from 5th grade were doing. And 15 years later, my friends from 5th grade would still ask me how my Grampy is doing. He's been so involved in my life and the lives of the people around me; everyone feels just how genuine his kindness is." Grampy would say, "Being kind doesn't cost a dime."
Harry is survived by his wife of 63 years, Glenna (Henderson) Gaunce, and their sons, Stephen (Julie), of Markham, Phillip (Lynne R) of Halifax, and Andrew (Lynne B) of Saint John.
He will be missed and remembered by his grandchildren: Allyson (Jay) Garnett, Cameron (Andrea), Brendan (Heidi), Adam (Alicia), Ryan, Jonathan, Emily and Benjamin, along with his great-grandchildren, Carter, Harper and Miller Garnett, and Jack Gaunce.
Harry is also survived by his sister Carolyn Danells (nieces Cynthia and Clare), brother Fred (Nancy), his brother-in-law Doug (Carol) Henderson, sister-in-law Shirley (Stan) Malouin and several other nieces, nephews and cousins.
He was predeceased by his parents, and sister Phyllis (Billie).
Arrangements have been entrusted to Brenan's Funeral Home, 111 Paradise Row, Saint John (634-7424) where cremation has taken place. Due to restrictions on gatherings, a service will be announced and held at a later date.
The Gaunce family would like to extend a very special thank you to Dr. Linda Stephenson for her wonderful care.
Donations can be directed to Bobby's Hospice, The GIVE Campaign at the Saint John Regional Hospital, The Bruce Melanson Scholarship Fund, or to a charity of the donor's choice.
Share Your Memory of
Harry