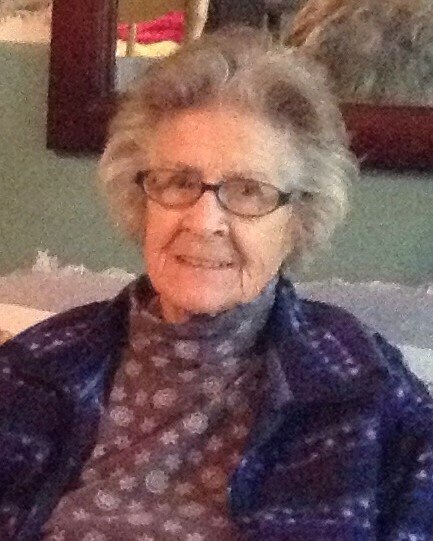 Obituary of Vanda Canada White
It is with sadness and a measure of relief that the family of Vanda Canada (Greenwood) White announce her passing after a brief but valiant battle with cancer. That sound you hear is the beat of her own drummer that she marched to all of her life.
Vanda loved to regale others with the story of how she was given Canada as a middle name, being the only Greenwood sibling born in this country when the others were all born in England.
After 65 years in the same house, her home was definitely her castle, and the maintenance and upkeep her pride and joy. Whether it was fixing the fence, building a composting pen, or designing something for the yard, she loved to be outside with the sun shining on her face. She loved to garden and her colourful flowers were admired by everyone.
Education was very important to her. She started her career teaching in a 1 room school house near Waterborough. After she moved to Saint John she was employed by Modern Business College where she taught typing for many years. She opened a ceramics studio in the basement of the house and taught classes 3 times a week. Typically, she took it one step further and learned to make her own molds. All the neighbourhood ladies and girls came to create masterpieces. If she only had a nickel for every ceramic Christmas Tree that left the premises!
Even after retirement she continued taking courses as she always said that education was easy to carry around. She even studied computer repair so the basement was often full of computer carcasses that were being worked ON, but never actually WORKED.
Vanda is survived by her only daughter Katrina and son-in-law Kier MacQuarrie; her sister-in-law Lena Greenwood; several nieces and nephews; and lifelong friends Liz Beveridge and Rhoda Kirkpatrick.
She was predeceased by an infant son, Joel Richard, an adult son, Kirby Kenneth, and her husband Kenneth Richard White. Also by her parents Leonard Knight Greenwood and Ada (Whaley) Greenwood; her brothers Trevor Greenwood and Stewart Greenwood, sister June (Greenwood) Wiggins, sister-in-law Isabelle (Coghill) Greenwood, and brother-in-law Noble Wiggins.
Arrangements are under the care of Brenan's Funeral Home, 111 Paradise Row, Saint John (634-7424). There will be no visitation or service as per Vanda's wishes and a graveside service will be scheduled at a later date.
Thanks to the doctors and nurses at Palliative Care in the Saint John Regional Hospital and at Bobby's Hospice for the excellent care in her final weeks.
In lieu of flowers, donations can be made to Bobby's Hospice, Dufferin Row, Saint John, NB, or to the St. Luke's Church Cemetery Fund, Young's Cove. Donations to the Cemetery Fund can be made via e-transfer to treasurer@parishofcambridgeandwaterborough.com. Please identify that it is for the St. Luke's Cemetery Fund at Young's Cove and include your return address for income tax receipt purposes.

Although she was told it would not go on her headstone, it can be said here….she died with all her work done.
Share Your Memory of
Vanda