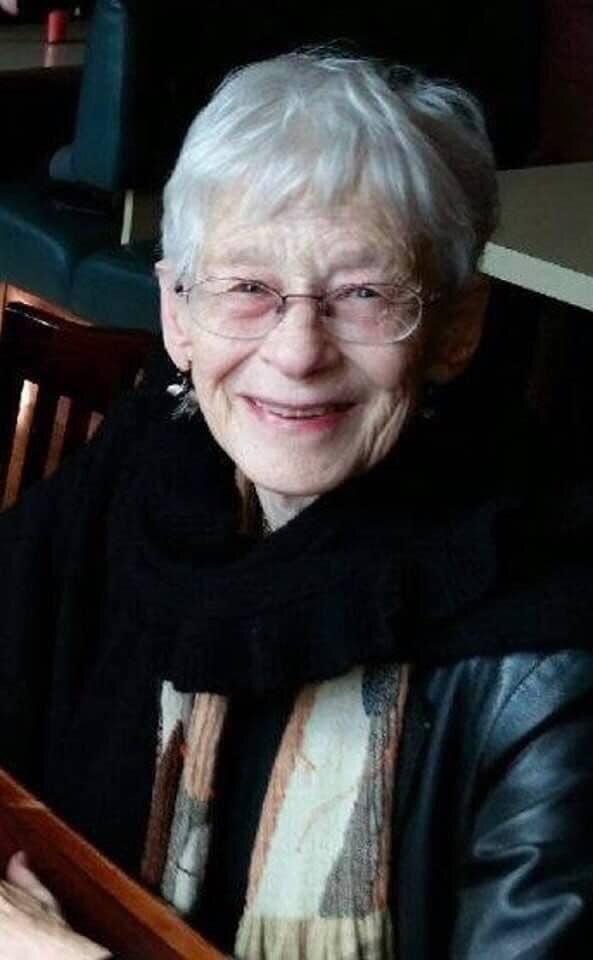 Obituary of Ann Ackroyd
The death of (Helen) Ann Ackroyd occurred on 13 October 2022 in Saint John, New Brunswick in Canada.
Ann was born in Salisbury, Rhodesia (Zimbabwe) on 19 September 1939. She was the only daughter of Rolf Otto and Helen G. (Haldane) Waldschütz.
Ann was predeceased by her husband John Ackroyd, mother Helen Waldschütz, father Rolf Waldschütz, brother Christopher Waldschütz, and very special Aunt Marirene Baroness Bachofen von Echt (Countess Rességuier de Miremont).
Ann is survived by the Waldschütz, Forrester, Haldane, Ackroyd, and Rességuier de Miremont family members in Austria, Africa, the United Kingdom, Australia, the United States, Italy, and Canada. She will be especially missed by her immediate family: niece Jennifer Waldschütz, nephew Colin (Jan) Waldschütz, great-nephews Neil and Andrew Waldschütz, sister-in-law Janice Waldschütz in Saint John, NB, brothers-in-law Simon Ackroyd (Paul) of the United Kingdom, Andy Ackroyd (Inna) and great-nephews Jason, Vlad and Simon Ackroyd in Australia.
Ann attended St. Andrew's School for Girls in Johannesburg, South Africa, followed by the University of Vienna where she obtained her degree in Linguistics and Translation with her majors in German and English. She studied Spanish and Portuguese at the University of South Africa. Later adding French, she was able to work as a translator, as well as converse in five languages.
She lived a long and interesting life residing in Africa, Austria, Brazil, and Canada (Kamloops, BC, Simcoe, ON and Saint John, NB). Her interests were very much in arts, music, poetry, writing, and animals particularly birds, cats and dogs. Ann's friends were mostly an eclectic group of artists, musicians, writers, and creators with whom she enjoyed lively conversation.
When her niece Jennifer and nephew Colin were born, the family started calling her "Auntie", which stuck and almost everyone called her Auntie including staff at local shops.
Ann was a lifelong artist who worked with mixed media, paints, sketching, collage, sculpture, metal, glass, driftwood, and items found in nature. She always had a studio space in her home and created new work until the day she died.
Ann was also a writer who wrote in rhythmic prose and novella mediums and created most of the illustrations in her work. She established a publishing company (Transom Press) to produce her books. Later, she moved to the label Xlibris. In 2021, Ann was proud to be a Patron of the Arts for Andre Haines' book series, The Adventures of Heureux. In 2022, she was working on a biography of a friend's life.
Gardening and landscaping were other favourite interests, which resulted in beautiful gardens at Ann's homes in Kamloops and Simcoe. Her full and curated garden in Simcoe was the backdrop for an annual fashion show.
Ann loved clothes and always put effort and thought into what she was wearing. She kept her European style no matter where she lived and enjoyed talking about, shopping for, and wearing fabulous outfits, hats, boots, scarves, and gloves. Her style was unique to who she was.
The Norfolk Arts Centre (now Lynnwood Arts) in Simcoe is a special place for Ann, where she met many artists and attended gallery events including her first public book reading. On the lawn of the Arts Centre there is a display of Jonas Stonkus' large art installations donated by Ann as a tribute to the centre and her friendship with the artist.
Auntie was particularly blessed to have very good friends throughout her life who will miss her.
Arrangements are entrusted to Brenan's Funeral Home, 111 Paradise Row, Saint John, New Brunswick Canada (+1-506-634-7424). A private family funeral service will take place at Trinity Anglican Church in November 2022 in Saint John, New Brunswick, Canada.
Memorial donations may be made to a charity of your choice. On-line condolences may be placed at www.BrenansFH.com.