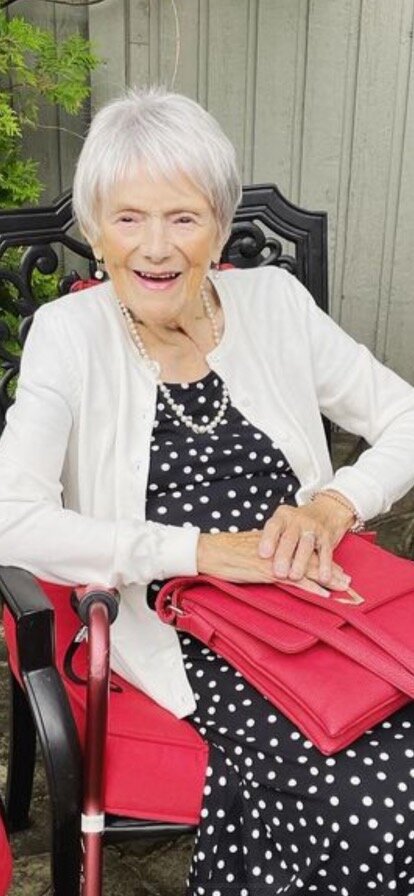 Obituary of Patricia Joan Blackwood
It is with sadness but gratitude for a long life filled with love and steadfast faith in Christ, that the family of Patricia Joan Blackwood announces her peaceful passing on Tuesday, October 24, 2023. The daughter of George and Florence (Levi) Bowden, Joan was born in Cornwall, England, in 1928. Growing up in a Christian household, Joan excelled in her studies and sports, winning an award for allocution and many awards recognizing her talent for beautiful ornamental needlework and embroidery (which she learned from her mother, Florence, a gifted stitchery artist and professional Tailor).
Joan was a nursing student at St. Mary's Hospital in London when she met her husband of 69 years, Colin MacDonald Blackwood, a Canadian soldier from St. Catharines, Ontario. Joan moved to Canada in 1948 as a war bride, settling with Colin in northern Ontario. There, Joan and Colin welcomed three children, David, Jennifer, and Peter. A delicate woman with a strong will, it was also in the remote Canadian wilderness Joan learned to hunt, fish, and berry pick. The family moved to New Brunswick in 1959, where Joan was active at home, and in the Spruce Lake community, especially with the Home and School Association and as a Brownie leader. While in NB, Joan and Colin's youngest son, John, was born.
In 1979, Joan completed her lifelong dream of nursing by graduating as a Nursing Assistant, and Valedictorian, from NBCC. She went on to work in geriatrics at the DVA Hospital and later at the Saint John Regional Hospital for a total of six years. In 1983, the Blackwoods moved to Rothesay, where they were dedicated congregation members of Saint James the Less Anglican Church. With devout faith and a deep love for the Lord Jesus Christ, Joan was involved with many church ministries, including the Salvation Army, Outflow ministries, the Church Army Mission Team, Christian Women's Breakfast, and bible studies. She was a member of her church choir, prayer team, and Altar Guild. She also spearheaded an initiative to provide welcome meals to new church members. Joan attended numerous Christian conferences and outreach mission trips. Joan was a long-time member of the Cursillo Movement, where she became the administration's Secretariat.
At age 92, Joan honed her computer skills during the COVID pandemic and successfully participated in daily bible studies via Zoom. She was blessed to have traveled back home to England and abroad over the years. She kept dutiful, handwritten correspondence with her loved ones across Canada and overseas. Along with her family and church, Joan loved spending time with Colin at their cottage on the Saint John River, where God granted them spectacular views and cherished memories.
In her final years, Joan was blessed to have been lovingly cared for by many wonderful, kind, and helpful caregivers. Following a brief illness, she went to be with her Lord and Saviour, peacefully and in the comfort of her home, with her family by her side. Joan's family would like to sincerely thank Dr. Jane Ashfield and the nurses with the Extra-Mural Program for enabling them to care for Joan at home; it was truly a gift.
Joan is predeceased by her parents, older brother Donald, his wife Dorothy, and their son Carlier, and loving husband, Colin Blackwood. She is survived by her four treasured children, David (Donna Boone), Jennifer, Peter, and John (Heather Carson). She will be forever missed for her love, support, and sweetness by her eight darling grandchildren: Beverly Mosher (Adam), Jonathan Blackwood (Michelle), Tricia Beaudet, Christine Collins (Josh) Mark Reid (Heather), Jessica Newhouse (Adam), Rebecca Blackwood (Neathan) and Matthew Blackwood (Bailey). Joan adored being in the lives of her 12 great-grandchildren and watching them grow: Ella and Paige Mosher, Marisa and Zachary Beaudet, Quinn and Harper Blackwood, Naveah and Journey Collins, Lydia and Charlie Reid, and Llewellyn and Naomi Newhouse. Her passing is mourned by her niece Cyndi Blackwood Wilson and nephews Pat Blackwood and Bobby Blackwood in Ontario, and her beloved cousins Pamela Barr and Marlene Berryman in England.
We "love you, love you" Mum, Granny, and GG, and we miss you so much already. But we're happy you've been called home, and there's another angel filled with goodness and light shining down on us from heaven. May God bless you and keep you always.
Joan is resting at Saint James The Less Church 1760 Rothesay Rd. Visitation is November 2 from 2- 4 PM and 6 – 8 PM. A funeral service will be held at Saint James The Less Church 1760 Rothesay Rd, Friday, November 3, at 11 am. A private burial will be held after the reception.
In lieu of flowers, the family requests donations be made out to Bobby's Hospice, or Threshold Ministries. Online condolences may be shared at www.brenansfh.com.
Share Your Memory of
Patricia