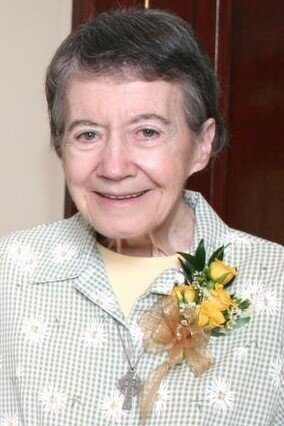 Obituary of Sister Celene Marie Hurley
Sister Celene Marie Hurley (Sister Elaine Marie) peacefully went Home to her Loving God on Sunday, November 5, 2023, at Ruth Ross Residence in Saint John, NB.
Born in Killoween, NB on March 31, 1938, she was the daughter of the late John Patrick and Flora (Gallagher) Hurley.
Sister Celene received her Commercial Certificate from the Carleton County Vocational School and worked as a secretary for eight years in New Brunswick and Ottawa. She was the first personal secretary to Wallace and Harrison McCain when they began their business in Florenceville, NB. Sister Celene entered the Sisters of Charity of the Immaculate Conception on September 13, 1964.
Celene continued her secretarial and accounting ministry in the community's administrative offices and at the Mater Misericordiae Home, later Rocmaura Nursing Home.
She obtained her Business Administration Diploma from the Northern Alberta Institute of Technology in Edmonton as well as accompanied new members of the community at the Formation House from 1976-80.
After a year in Vancouver, as Business Office Supervisor at St. Vincent's Hospital, she returned to Saint John and became Assistant General Treasurer. From 1985-1998, Celene's ministry as General Treasurer was marked by understanding, innovation and sincere desire to assist the congregation. She was among the founding members of ATRI, Association of Treasurers of Religious Institutes.
In 2000, Celene returned west, living and volunteering in Downtown Eastside Vancouver. She was a compassionate presence at Mary's Place, a centre for women who were homeless, dealing with addictions and living in poverty, as well as at the Dr. Peter Centre for persons with HIV-AIDS. Returning to Saint John in 2012, she continued her ministry at the Oasis Women's Drop-In on Waterloo Street and volunteered at Romero House.
Known affectionately as "Teen" to her community, family and friends, Celene warmly welcomed and listened to each person, just as they were. She lived each day with the simple conviction of the words of St. Vincent de Paul ~"If God is the centre of your life, no words are necessary. Your mere presence will touch hearts!"
Predeceased by her parents John Patrick and Flora Hurley; brothers Walter and Joseph; sisters Margaret (Feeney) and Floretta (White) and nephew Walter Feeney.
Survived by several nieces, nephews, grandnieces, and grandnephews.
Visitation at Ruth Ross Residence (105 Burpee Ave.) on Wednesday, November 8 from 2-4 and 6-8pm. Vigil at 7pm. Mass of Christian Burial on Thursday, November 9 at 10am (Carmel Chapel). For those unable to attend, the Mass will be livestreamed and can be viewed by visiting Sister Celene's obituary on the Brenan's website. Interment to take place in St. Joseph's Cemetery, Saint John, NB. Arrangements are under the care of Brenan's Funeral Home, 111 Paradise Row, Saint John, NB (506-634-7424).
Share Your Memory of
Sister Celene